For a developing country like the Philippines, being able to play host to the prestigious Fédération Internationale de l'Automobile (FIA) 2018 FIA Sport Conference is like winning the lottery.
We bested 17 other countries in the Asian region who wanted to host the prestigious annual event of the FIA, which is slated for June 3 to 6 this year. The FIA is the world governing body for four-wheel motorsports, including Formula 1.
ADVERTISEMENT - CONTINUE READING BELOW ↓
What is this event, exactly? Around 500 foreign delegates representing all motorsports disciplines are expected to arrive in the country to participate in the sixth FIA Sport Conference that was previously held in the UK (Goodwood), Germany (Munich), Mexico (Mexico City), Italy (Turin) and Switzerland (Geneva). This year's event will be the first in Asia.
The delegates are from 245 FIA member automobile organizations in 143 countries. Our very own Automobile Association of the Philippines (AAP) will be this year's host, with the support of the Department of Tourism (DoT).
Former Formula 1 driver Felipe Massa, a Brazilian, was invited as guest of honor.
Also playing a key role in this year's event are San Miguel Corporation (SMC), Petron Corporation, and SMC Asia Car Distributors Corporation (BMW Philippines), all headed by businessman Ramon S. Ang. RSA, as he is otherwise known, always thinks global. And to ensure the success of this event, he has committed to mobilizing his three companies.
"Hopefully, this will open the doors for future motorsports in the Philippines," says AAP president Gus Lagman.
As he proceeded with his speech during the signing of the agreement for Ang's companies' involvement in the event, Lagman shared that RSA was a key figure in convincing FIA president Jean Todt to hold the Sport Conference here.
It all started when RSA and Todt met at the Manila Diamond Hotel during latter's visit to Manila about two years ago. During their conversation, the French motorsport executive showed Ang an album of his collection of exotic cars he's keeping in Paris.
When he realized that they spoke the same language, RSA invited Todt the following day to his residence in Wack Wack Subdivision to view his own collection of four-wheelers.
However, Lagman failed to mention Todt's initial reluctance to visit Ang's house fearing he might miss his flight. According to well-placed sources, Ang offered his private plane to take Todt to his next country of destination. That eventually convinced the Frenchman to take a glimpse Ang's impressive car collection.
ADVERTISEMENT - CONTINUE READING BELOW ↓
Since then, the two became BFFs (best friends forever), calling each other by phone every now and then.
"It was quite natural when we asked the FIA if we could host the Sport Conference, they would not say no," says Lagman in a jest. By the way, road safety is on the conference's menu since Todt is also the United Nations Special Envoy for Road Safety. His first visit to the country was in January 5, 2011. It also marked the first visit of an FIA president to the Philippines.
Former DoT secretary Mina Gabor, who is now AAP Trustee and Tourism and Travel Committee chairperson, disclosed the activities lined up for the Sport Conference. Among them are the Regional conference involving 17 countries and the Motor Sport Council meeting. These include a motorcade by the AAP featuring vintage race cars, an auto exhibit highlighting the modern technology, motorsports activities (gymkhana, rallycross and track day) and a fashion show.
ADVERTISEMENT - CONTINUE READING BELOW ↓
FIA delegates, particularly their spouses, will also be treated to sumptuous local food under the 'Fiesta Filipino' program and post-event tours to the Banaue Rice Terraces and other scenic spots in Cebu and Bohol.
With the Philippines back on the map, do we smell a World Rally Championship round or Formula 1 race in the country in the coming years? Let's keep on dreaming.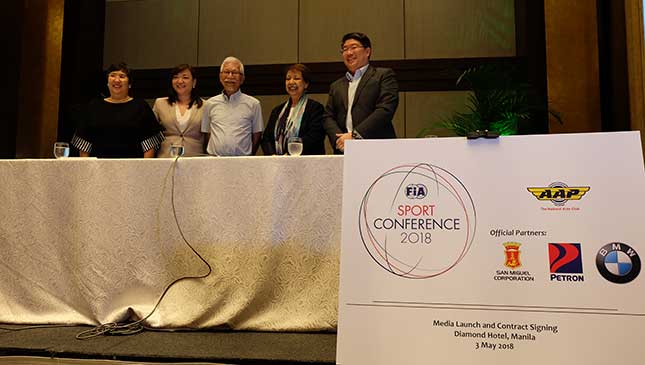 ADVERTISEMENT - CONTINUE READING BELOW ↓