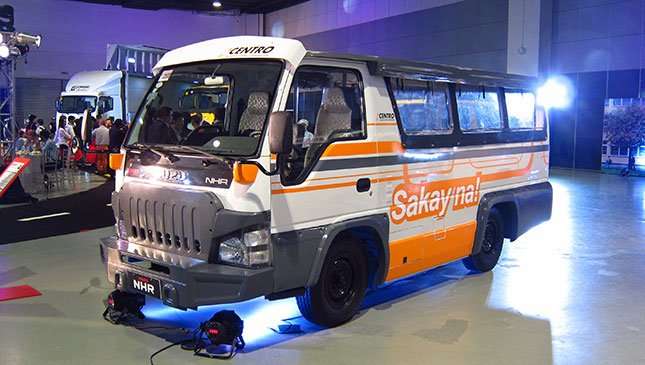 Rommel Juan is the vice president for sales and marketing at Centro Manufacturing Corporation--Isuzu Philippines' partner in making truck bodies. He's no stranger to the jeepney, though, because he's part of the MD Juan Enterprises family. In case you didn't know, MD Juan became famous in the '60s and '70s for manufacturing jeepneys.
When we bumped into Rommel during the Isuzu Truck Fest last weekend, we got to chat with him about the Isuzu Jeepney concept/prototype that was built with Centro Manufacturing's expertise.
He tells us that this prototype of the modern jeepney concept uses an Isuzu NHR chassis platform. The folks at Centro chose this chassis and engine combination because it is very familiar with it. It is the same one used in the Isuzu i-Van microbus conversion.
"The prototype is a 17-seater jeepney," Rommel says. "But we are talking to Isuzu to get a longer chassis, something that is maybe 14ft long--to make a 23-seater. What we learned from the market is that owners and operators want more capacity because they make more money from that."
Rommel explains that there is a consistent clamor to modernize because the average age of jeepneys now is 20 years old. By law, trucks, buses and taxis that are 15 years old shouldn't be given franchises anymore. The time for the jeepney is coming as well. "Now is the time to do it, but it is very political so it is hard to implement," explains Rommel. "But if there is an administration that can implement it, it is this one. It is the one with strong political will."
Once implemented, there will be 350,000 jeepneys to be modernized. A fifth of them are in Metro Manila. Centro's prototype uses the same components and pressed parts as the i-Van. According to Rommel, this is a huge advantage because, "when it comes to capacity we can mass produce right away. So, we can immediately start manufacturing because we already have the plant for this body orientation."
When the government issues the order, Isuzu and Centro have a product that can be offered to the market.
Some trivia: A jeepney with a brand-new body and most likely a secondhand, surplus engine, sells for about P700,000. The jeepney prototype will be priced at P1,200,000. "The nice thing about this is the Isuzu platform," he explains. "Ask any jeepney driver and he will tell you that his preferred engine is Isuzu. It's the most reliable, and they are confident and familiar with the brand."
Another huge plus, says Rommel, is because the prototype can be bought brand-new, owners can finally get financing from the bank. This is something that jeepney operators never experienced in the past.
Rommel's parting shot is this: "My advice for the government, if they want to help the jeepney drivers and operators to modernize, is to help them in buying a modern jeepney. Even with bank financing, a 20% or 30% downpayment is still a lot. But what if the government finances that downpayment? And then the driver pays the monthly amortization as hulagan every day with the boundary system? That's something that drivers can manage."
Something to think about.