As I write this, I've just returned from renewing my driver's license at the Land Transportation Office (LTO) renewal center at Robinsons Metro East, Pasig City. 
Yes, yes, I know. The LTO already offers an online appointment system—something which several of my teammates have already tried. From what they've told me, the system works fine, and they were in and out of their LTO branch in roughly 30 minutes. However the online service is only offered at select standalone branches. Partly because I didn't want to be hassled by the sweltering heat, I opted for the comfort of an air-conditioned mall instead. Kaartehan aside, I wanted to see just how efficient these renewal outlets really are. 
My first impression of the mall system is that there is, in fact, a system in place. Once I entered, I informed the guard that I was there for a renewal, and she promptly directed me to the correct seated queue. This queue is followed to a tee, even as you move from the row of seats outside to the medical testing and other counters later on.
Within 30 minutes, I was already lined up with a form in hand for the medical testing. A little later, I was in line for the actual LTO requirements as well. I never once felt lost or confused the whole time, as the staff promptly and clearly told me where to go at every step. The signage around the center helped as well. The steps to take and fees to pay were all clearly flashed on an LCD screen in front of the LTO counter. As an added bonus compared to my last renewal, I got my card the same day. Yay. 
Continue reading below ↓
Recommended Videos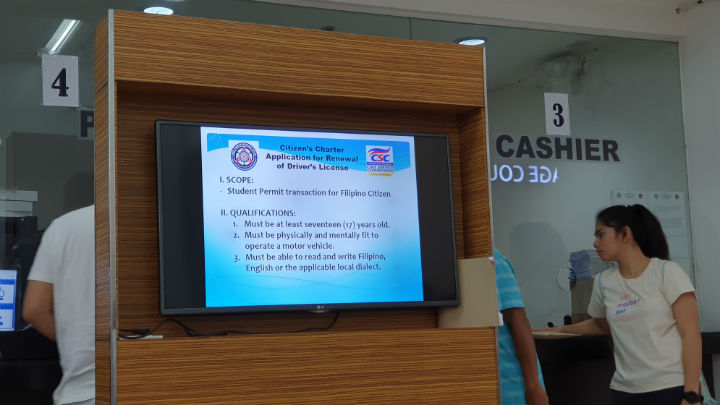 All in all, the process took about two and a half hours. Quite lengthy compared to the online system, yes, but maybe it's the price I had to pay for the comfort of a mall. More important, though, I observed that the proper procedure was followed at every step. I didn't spot any seedy figures walking papers for someone else, nor did I notice any of my 'batchmates' unjustly getting ahead of me in line. Senior citizens, PWDs, and pregnant women were given priority accordingly.
I'd recommend the mall route if you don't have access to the online appointment booking system or if you require/prefer the comfort of being inside a mall for whatever reason. 
Have you ever availed a service at one of the LTO's mall branches? What was the experience like? Share your story with us in the comments.