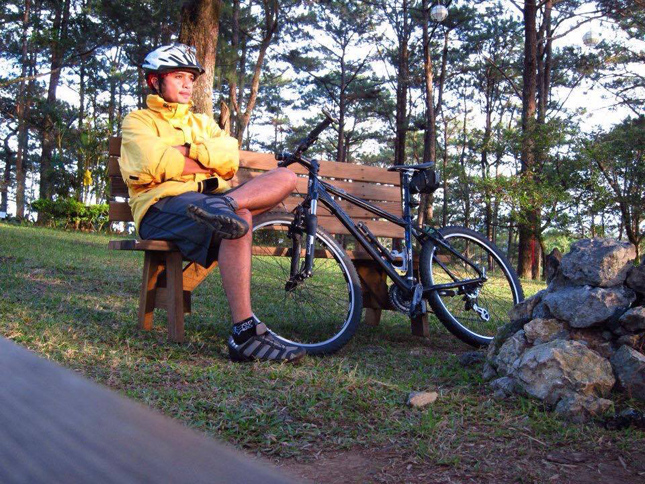 A memo dated February 4, 2016, from Baguio City mayor Mauricio Domogan is making the rounds online as it causes concern among riders of both bicycles and motorcycles. Said memo orders the implementation of the ban on bicycle and motorcycle use in the Summer Capital--in addition to tricycles, which have long been prohibited in the city. The memo provides exemption for two-wheeled rides being rented out at Burnham Park.
Sam Galang, who sent us a copy of the memo, said that "the prohibition of other motorized two-wheeled vehicles was prompted by the increasing accident rate involving motorcycles."
Ferdie Balanag, a Baguio resident and environment advocate, told TopGear.com.ph: "I finally got to talk to the mayor's executive assistant, Ryan Mangusan Olat. He confirmed that the picture floating on Facebook is a legit amended ordinance. Bikes and motorbikes won't be allowed in the central business district. The original ordinance was drafted in 1965, and since then, it has prohibited the entry of bikes to Session Road only. The ordinance now prohibits bikes and motorcycles on roads around Session Road like Harrison Road, Abanao, Legarda, Magsaysay, Bonifacio Road, etc."
We got in touch with former Baguio City mayor Peter Rey Bautista, and he had this to say: "Well, my original administrative order only banned tricycles and motorbikes. I biked with an advocacy group on Session Road to showcase biking and pedestrianization on Session Road. I even wanted to remove parking and instead build bicycle racks. I was surprised that the council passed an ordinance citing the ban to include bicycles. Many are disappointed. I had even managed to ask Camp John Hay to allow biking, which they did."
ADVERTISEMENT - CONTINUE READING BELOW ↓
So, is this ordinance already in effect?
"You can't ride a bike with this new memo," Bautista affirmed. "However, it is not permanent. What is permanent is the ban on tricycles, scooters and motorcycles. The one on bicycles is not yet clear. I can ask the council to seek an amendment."
For sure, bicycle-riding residents are now up in arms over this new memo.
Our own print associate editor Paulo Rafael Subido is one such Baguio City resident. "I can understand the long-standing ban on tricycles," he offered. "If these slow-moving vehicles were to ply Kennon Road, it would be very dangerous to overtake them. Plus, tricycles will make the traffic situation even worse. And then there's the environmental impact. Overloaded trikes that have to tackle steep hills will belch an insane amount of smoke. But why ban bicycles? This is a sustainable and environment-friendly form of transportation. Obviously, the mayor didn't read this memorandum before signing it. Baguio governance is a joke. It's heartbreaking. This bit of news is just another disappointing episode in a chain of screw-ups that have been plaguing Baguio lately."
Photo by Paulo Rafael Subido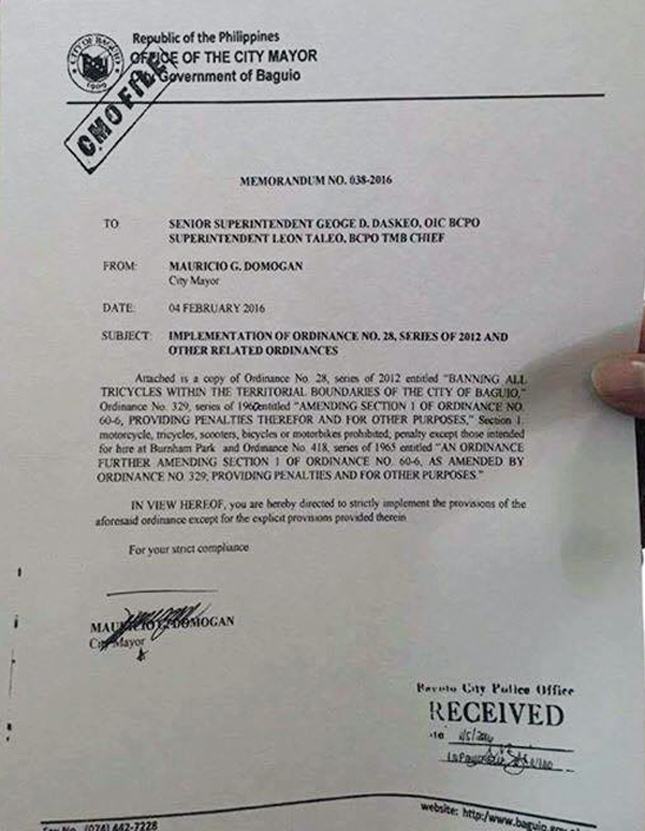 ADVERTISEMENT - CONTINUE READING BELOW ↓
Recommended Videos