Traffic citations are a bummer, whether you feel they're unjustly given or otherwise. Not only do you have to pay a fine, you also have to take precious time out of your daily schedule to line up and hand over the dough—and this is if you're honest and don't simply resort to giving 'pang-merienda' to the apprehending enforcer.
For the longest time, we had the convenient option of settling the fines issued by the Metro Manila Development Authority (MMDA) at Metrobank branches. Now, this is no longer the case.
The traffic agency has released an advisory on its website informing motorists that settling fines can no longer be done at Metrobank. Instead, violators will have to resort to paying via the following options:
MMDA fine settlement:
Bayad Center outlets
SM Bills Payment
MMDA Treasury Division
Traffic violations can be settled through any one of the three options, while as of now, fines for littering and jaywalking can only be settled at the MMDA Treasury Division. Beginning January 2019, though, littering and jaywalking fines may also be settled at Bayad Center outlets and SM Bills Payment branches.
Well, it looks like that's that. Thankfully, there's a way to avoid the inconvenience of settling fines altogether: Just drive responsibly and within the limits of the law. That's not so difficult now, is it?
Continue reading below ↓
Recommended Videos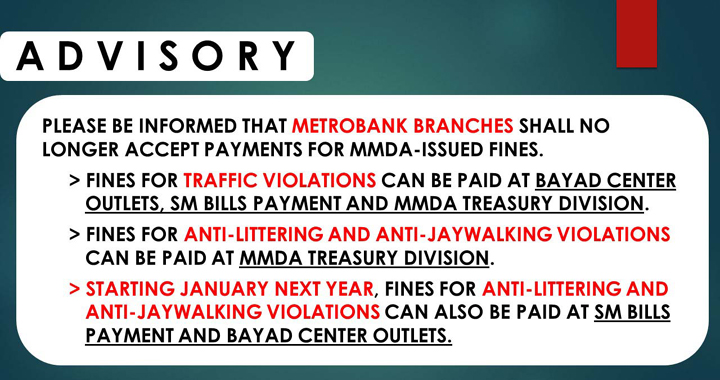 Update: You can also pay for fines via the GCash smartphone app.