The government announced earlier today that Metro Manila will be placed under modified enhanced community quarantine (MECQ) from May 16 to 31.
Naturally, a lot of questions popped up following the announcement, so we'll aim to answer some of them here. But to understand the concept of ECQ better, you should first take a closer look at the different zone classifications identified by the Inter-Agency Task Force (IATF).
The four zone classifications are based on the number of COVID-19 cases per 100,000 of its population that have been recorded in the last 30 days. Critical Zones have 20 or more, and these areas will be placed under ECQ. Containment Zones have between one to 19 and will be placed under MECQ. Buffer Zones are areas with zero cases but are contiguous with localities with recorded cases, and these will then be placed under general community quarantine (GCQ). Lastly, Outside of Buffer Zones are areas that have zero recorded cases and are, as the name suggests, located outside of the Buffer Zones and will be placed under modified GCQ (MGCQ).
ADVERTISEMENT - CONTINUE READING BELOW ↓
So, onto the big question: What exactly differentiates MECQ and MGCQ from the others? Let's take a closer look here.
First off, the guidelines on modified ECQ. Basically, MECQ and ECQ guidelines are similar, only that in MECQ areas, manufacturing and processing plants will be allowed to operate with up to 50% of their workforce. Also, there will be limited transportation for essential goods and services that will be allowed in these same areas. But what's also noteworthy here is that in MECQ areas, LGUs may classify their barangays even further according to the four zones we previously mentioned.
This means that some areas within MECQ will still need to observe the usual strict ECQ guidelines, while in other areas, quarantine restrictions will start to ease up. It will then be up to the LGUs to classify accordingly the barangays within their locale.
Now, for modified GCQ. Under GCQ areas, public transportation may be allowed to operate albeit at limited capacities—check out the guidelines here in case you missed it. Government offices, industries, and even schools may also resume operations but also only at limited capacities. Under MGCQ areas, these restrictions will no longer apply, but minimum public health standards such as physical distancing and mandatory wearing of face masks must be enforced.
ADVERTISEMENT - CONTINUE READING BELOW ↓
Recommended Videos
To give you a better overview of which locations will be placed under what type of community quarantine, we've compiled everything into a list below. However, take note that this list is still subject to change, as the IATF has also made it clear that LGUs may submit an appeal to change their respective classifications not later than May 13.
Low-risk areas where community quarantine will be lifted effective May 16:
Region I
Region IV-B 
Region V 
Region VI 
Region X 
Region XII 
BARMM
Moderate-risk areas to be placed under GCQ from May 16 to 31, 2020:
CAR 
Region II
Region III
Region IV-A (except Laguna)
Region VII (except Cebu City)
Region IX
Region XI
Region XIII (CARAGA)
High-risk areas to be placed under MECQ from May 16 to 31, 2020:
Laguna (Region IV-A)
All highly-urbanized cities in NCR
Municipality of Pateros
Cebu City (Region VII)
Presidential spokesperson Harry Roque mentioned in the press briefing earlier that the industries that may be allowed to resume operations under MECQ have yet to be identified, but updates will be given tomorrow, May 13. He also mentioned that the guidelines for travel across different zones—including travel by air and sea—will have been laid out by May 16.
ADVERTISEMENT - CONTINUE READING BELOW ↓
There'll surely be a lot of updates in the coming days, so watch this space.
For more of our stories on the ongoing crisis, click here. For the latest news and updates on COVID-19, check out reportr.world/covid-19.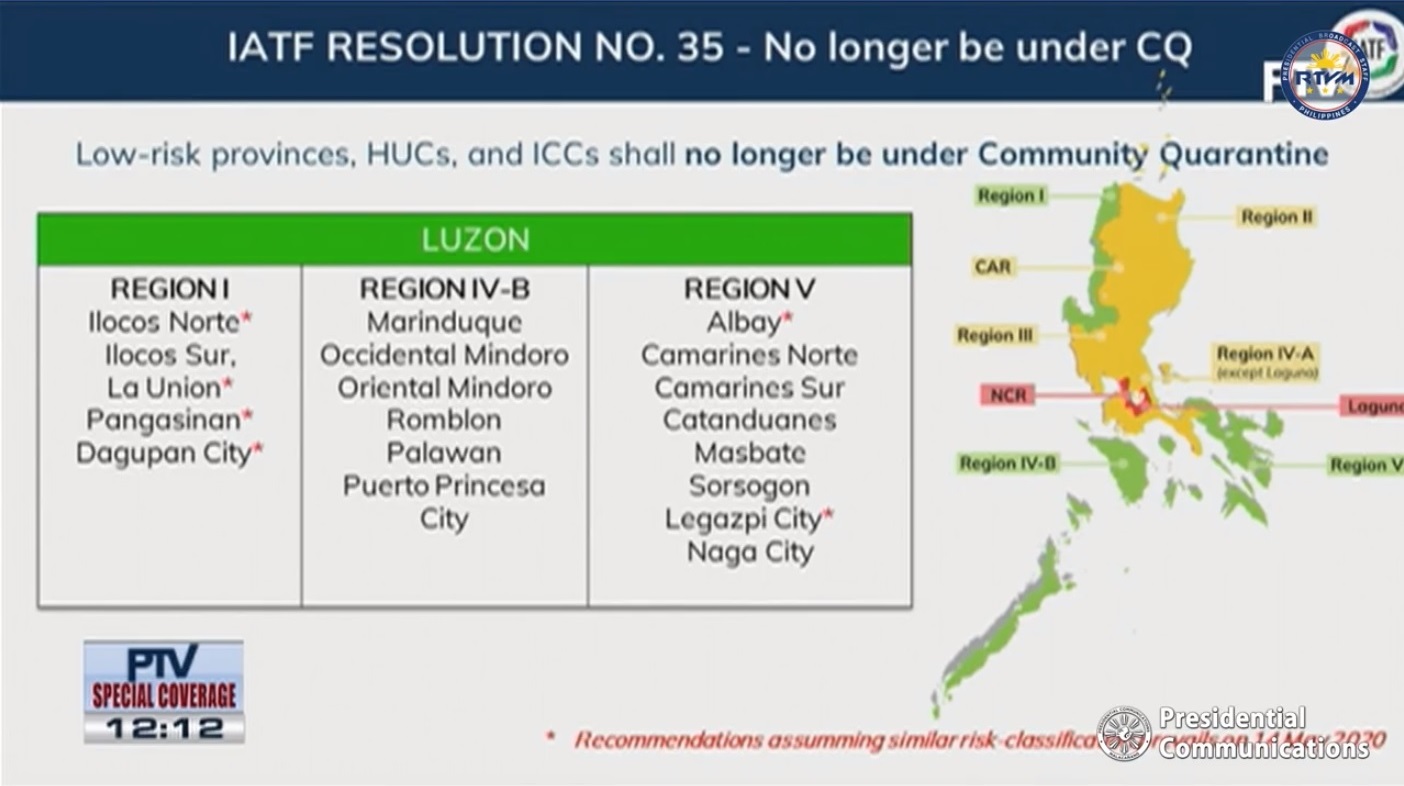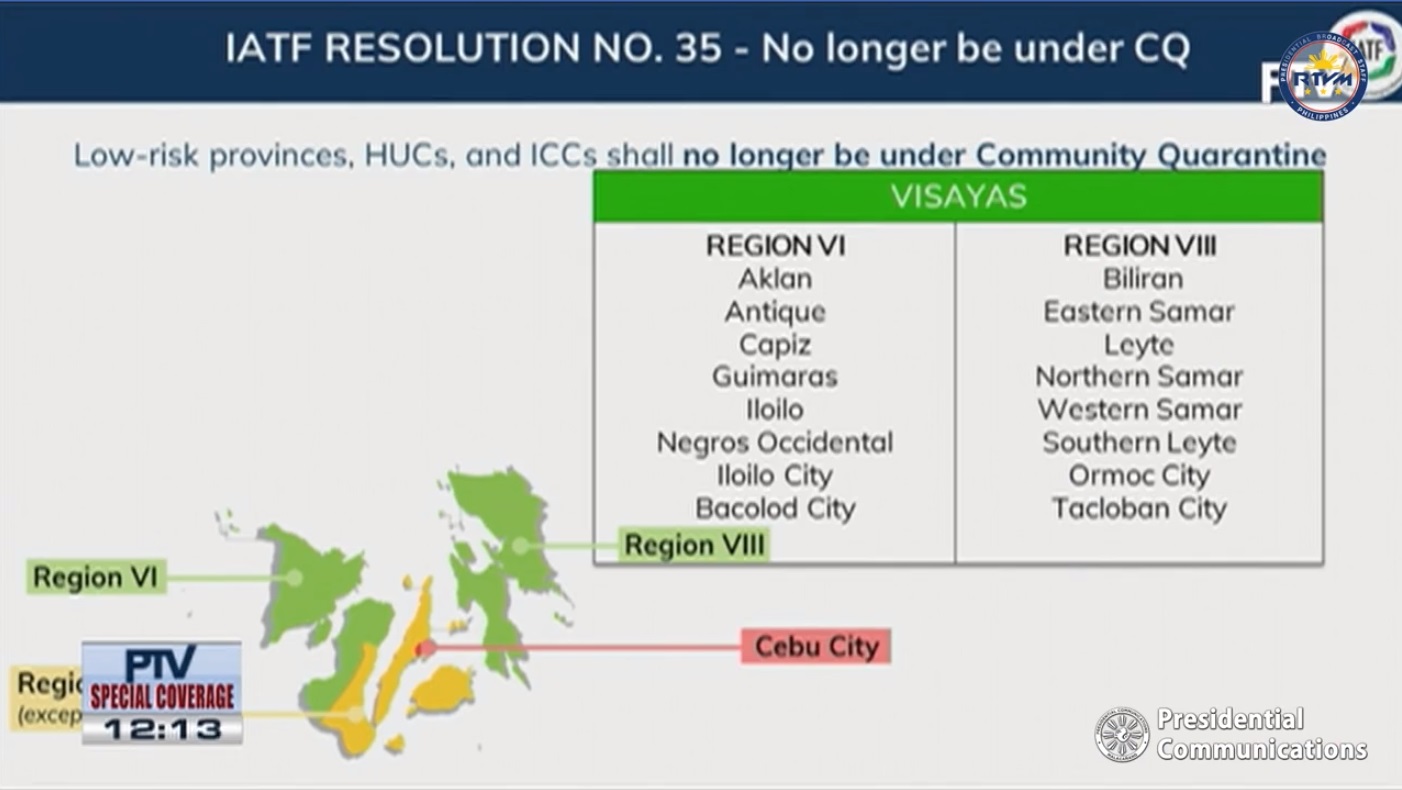 ADVERTISEMENT - CONTINUE READING BELOW ↓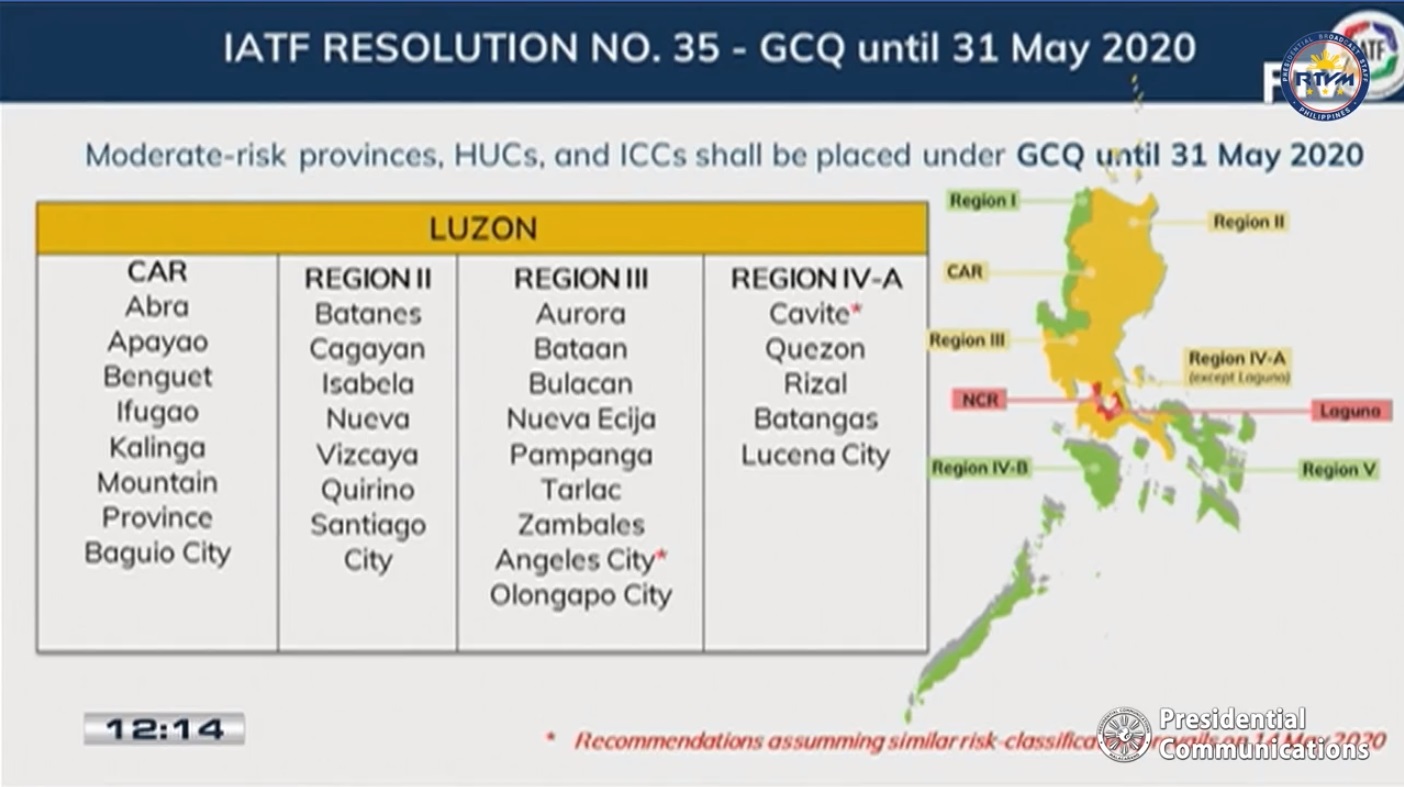 ADVERTISEMENT - CONTINUE READING BELOW ↓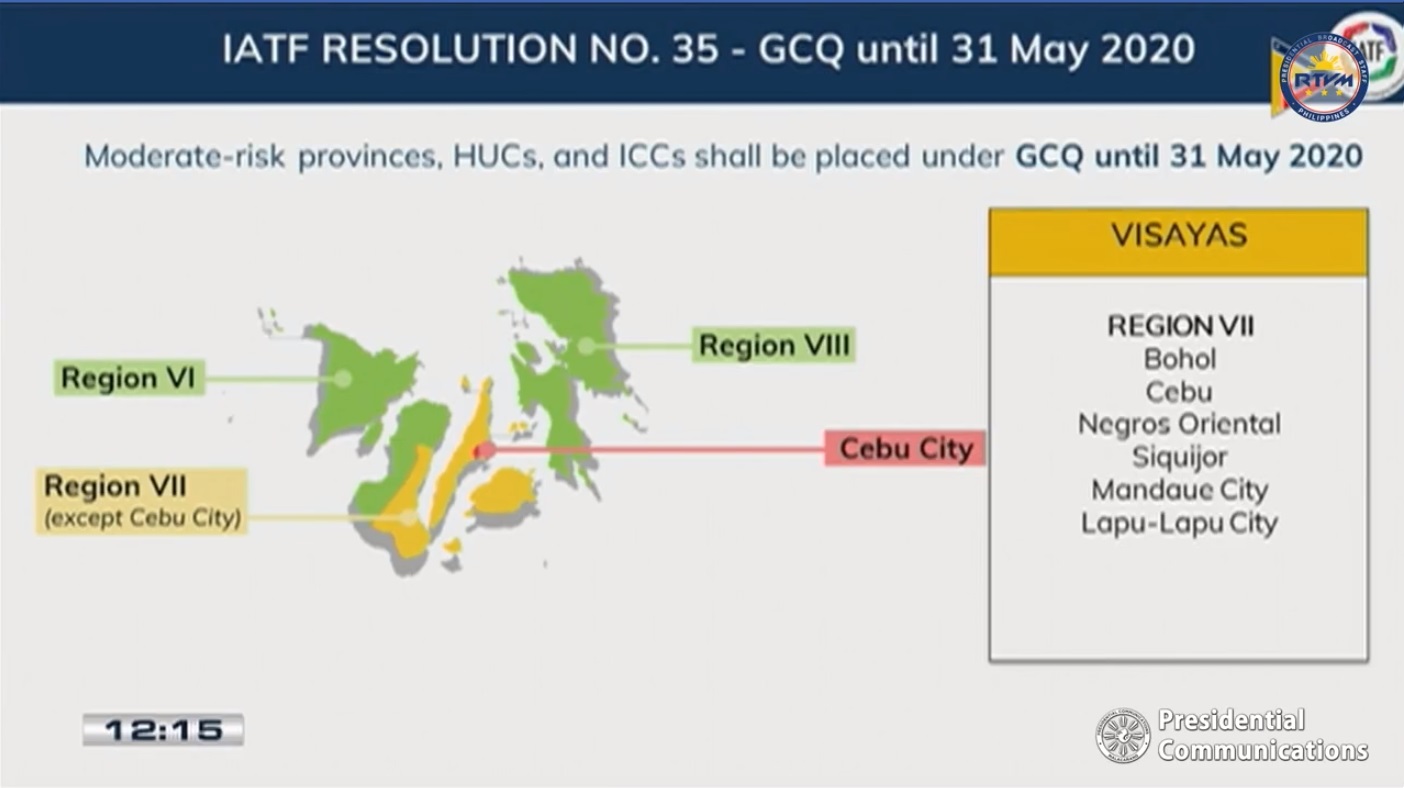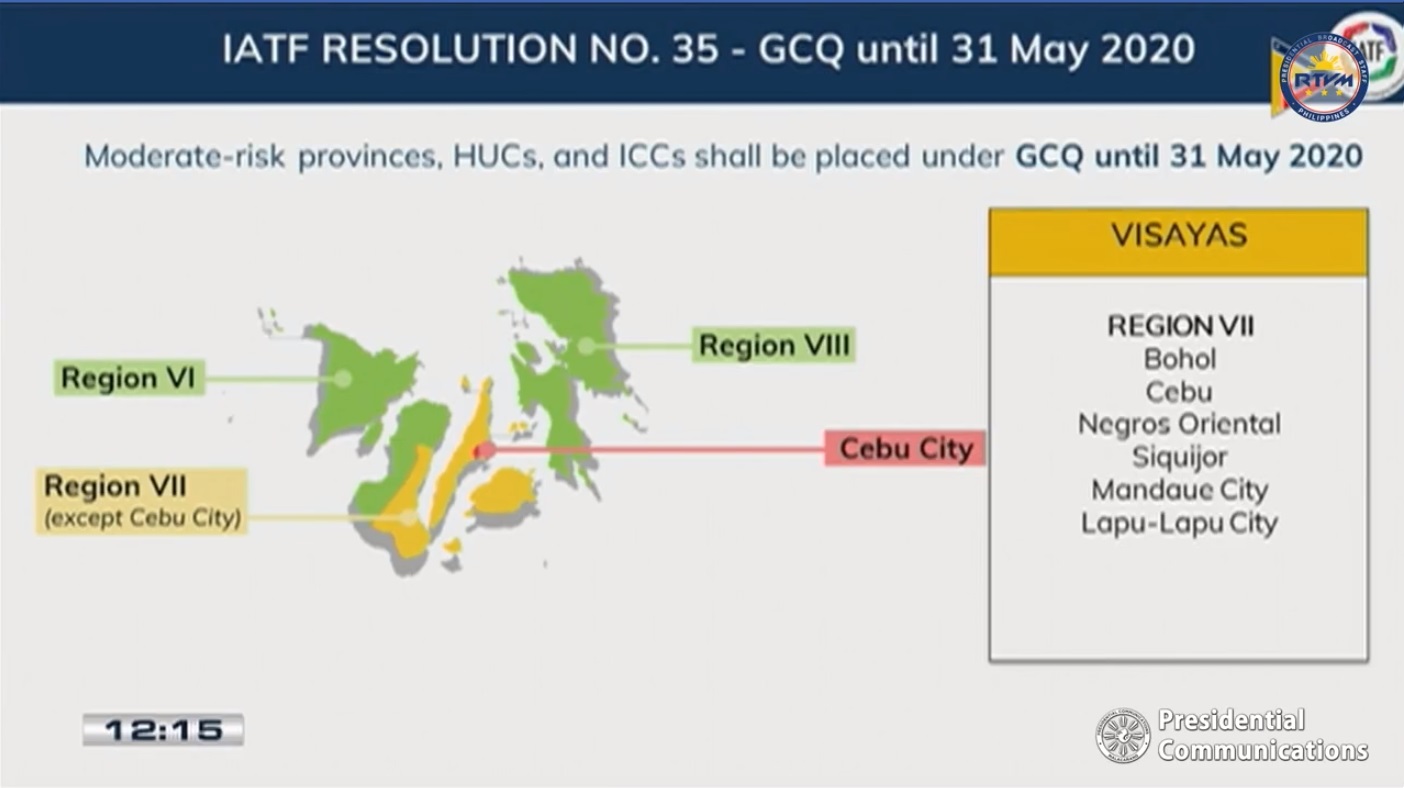 ADVERTISEMENT - CONTINUE READING BELOW ↓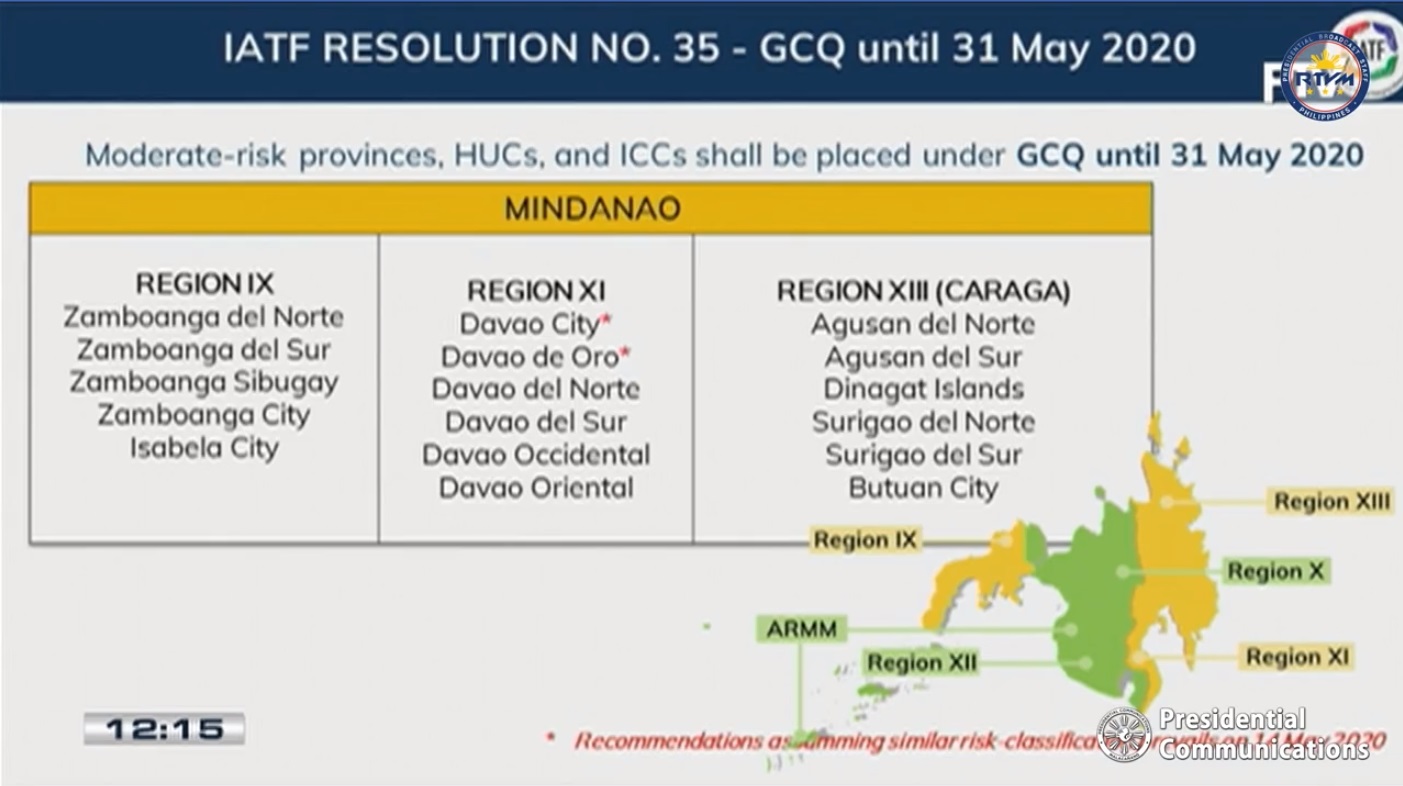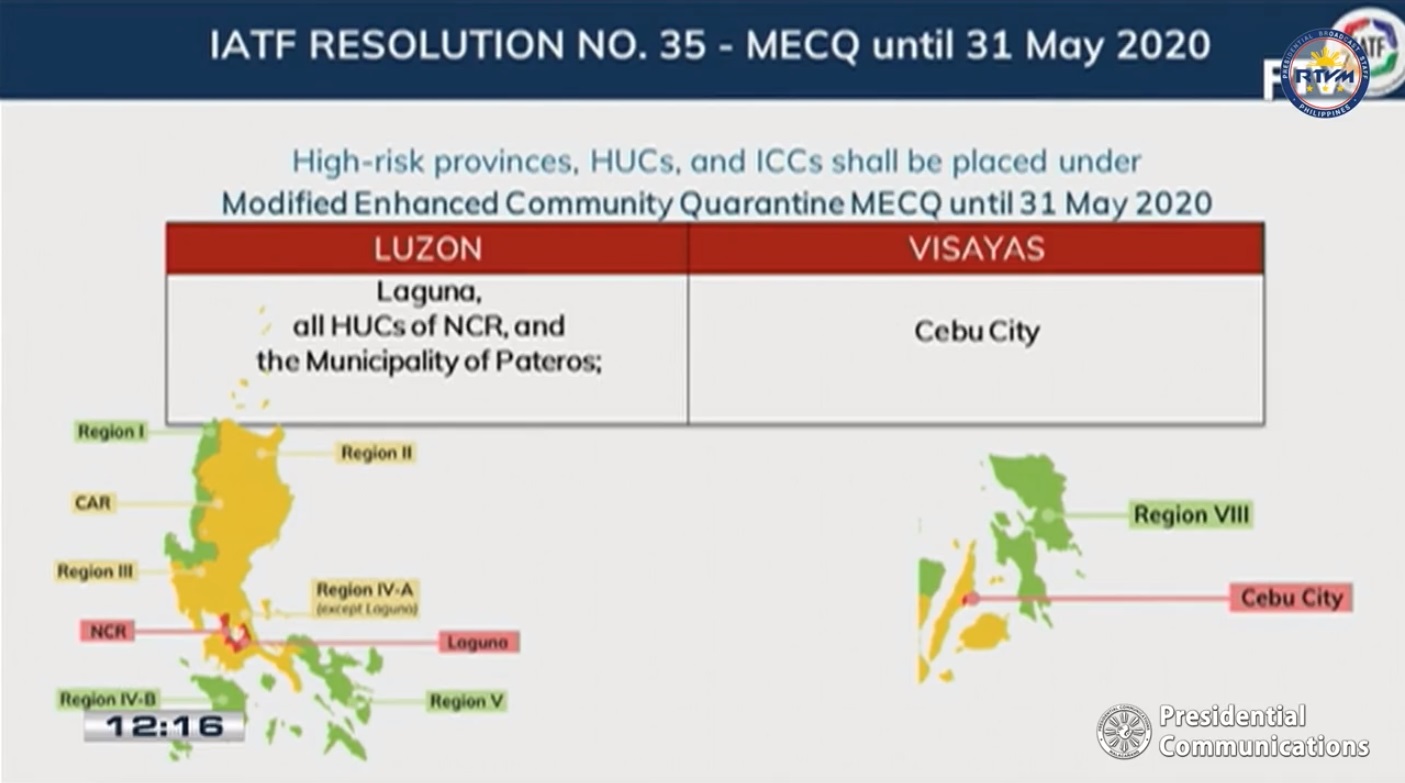 ADVERTISEMENT - CONTINUE READING BELOW ↓