Robinsons Land Corporation (RLC) has recently inaugurated its first township in Metro Manila: Bridgetowne. Contrary to what motorists may assume, this town may actually help alleviate the congestion in its surrounding areas—particularly Quezon City and Pasig —rather than worsen the current traffic situation.
This is because the 30.6-hectare township will include a four-lane 200-meter bridge that will connect the two cities. The bridge will also include a one-meter-wide bike lane and a 1.5-meter-wide pedestrian lane.
"More than linking the two cities on which the estate will rise, the bridge will allow people to conveniently enjoy the best that Quezon City and Pasig can offer," said Robinsons Land president and chief executive officer Frederick Go. "This bridge will help alleviate traffic, especially for those coming from the east. I'm sure it will be a very welcome infrastructure for everyone."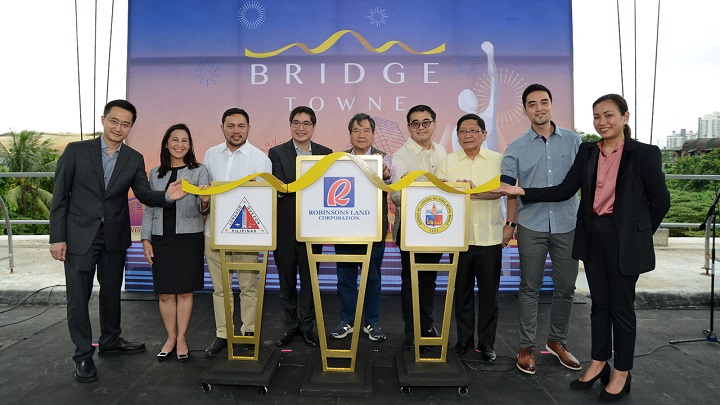 ADVERTISEMENT - CONTINUE READING BELOW ↓
Bridgetowne is set to provide Filipinos with a "self-contained community" complete with residential condominiums, shopping centers, a five-star hotel, a one-hectare park, a school, a hospital, and a dedicated transport terminal.
A 60-meter steel statue named 'The Victor' will also be built next to the bridge. It is estimated to complete by 2020, and is set to compete as the "tallest lighting projection" art installation in the world. The artist mastermind Jefre Manuel-Figueras said: "The bridge is really a metaphor for connection. We want 'The Victor' to become a beacon for unity of how people come together."
Meanwhile, RLC has also announced that the construction of Cirrus, its 40-story, 1,371 unit condominium, has already begun. The condo will consist mostly of 24 sq.m. studio-type units that will cater to the employees of the businesses that will soon be located within the township.
Do you think the connecting bridge will help ease the traffic in the area?
ADVERTISEMENT - CONTINUE READING BELOW ↓
Recommended Videos