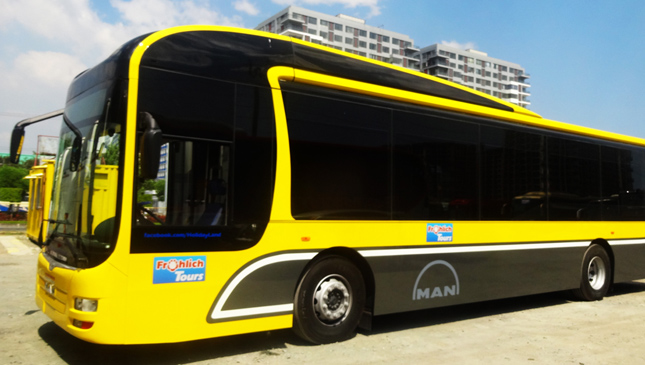 Finally, it looks like the government has taken note of the plight of disabled commuters. The government has announced that PWD-friendly public buses are now plying routes as part of its point-to-point (P2P) bus service fleet.
The special buses will be equipped with free WiFi, a GPS monitoring system, CCTV cameras, a tap-and-go payment system, as well as a hydraulic kneeling function and a retractable boarding/alighting ramp designed to make these buses accessible to those with disabilities. Government says that all this is just part of the country's plan to modernize its transportation system.
Department of Transportation and Communications secretary Jun Abaya says that this milestone will eventually force existing bus operators to step up their game. "PWDs, senior citizens and pregnant women will begin enjoying the convenience and comfort of this new class of city buses, which improve accessibility with low floors and foldable ramps," the often-criticized government official said. "We are ridding our streets of dilapidated, poorly maintained and unsuitable buses. Eventually, this will push all PUBs to modernize."
Yesterday, images of the all-new MRT train carriages surfaced online. Is our country's horrendous public transportation situation about to take a turn for the better? It's a long shot, but we certainly hope so. For now, we're just happy to know that our leaders are looking after the handicapped.
Continue reading below ↓
Recommended Videos
Photo from Official Gazette of the Republic of the Philippines