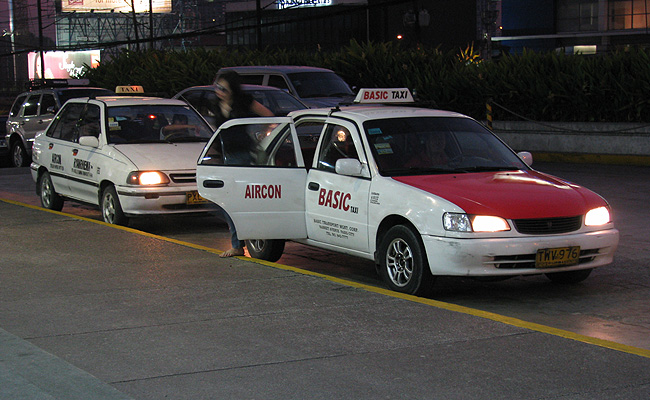 Rep. Cesar Sarmiento (Catanduanes) has filed House Resolution 1771, which tasks the Land Transportation Franchising and Regulatory Board to take a more proactive stance in preventing taxi-related crimes.
"Public order and safety strongly demand that a holistic strategy--not a case-to-case nor a piecemeal approach--be done if we are to put an end to the taxi-related crimes and violations that have haunted our people," Sarmiento said in filing the resolution.
According to Sarmiento, taxi drivers who are involved in criminal activities have taken to activating the child-lock mechanism of their taxi units, thereby preventing the rear-seat passengers from opening the taxi's doors from the inside and escaping.
The lawmaker also noted that when the LTFRB issued Memorandum Circular No. 2008-035 on December 10, 2008, for taxis, it only called for the removal of the power door locks and the windows system, not the disabling of the child-lock system.
"The taxi-related crimes and the existence of serious security lapses such as the available child-lock system and the lack of proper driver IDs, are on top of the countless complaints involving discourteous and reckless taxi drivers, defective or tampered meters, drivers who contract passengers or refuse to convey them, and poor maintenance of their taxi units, just to name a few," Sarmiento added.
Continue reading below ↓
Recommended Videos
Besides imposing the mandatory disabling of the cab's child-lock system, HR 1771 also calls for the LTFRB to: consolidate its regulations, programs and activities with other government agencies; respond timely and immediately resolve the complaints filed by commuters; inventory and conduct random inspections of taxi units; enforce and monitor the compliance of taxi operators and drivers on the rules and regulations designed to protect taxi passengers; and regularly coordinate with various government agencies like the Department of Transportation and Communications, the Land Transportation Office, the Philippine National Police, and the Highway Patrol Group, "which may contribute to the prevention of taxi-related crimes."