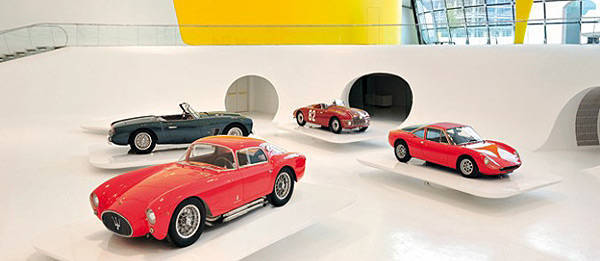 Although Ferrari has its own museum in its headquarters in Maranello, Italy, one organization has thought it would be wise to honor the man behind the iconic brand with his own museum in his hometown of Modena.
"With the objective of exhibiting, promoting and safeguarding" the images, history and works of Enzo Ferrari, the Fondazione Casa Natale Enzo Ferrari was established in January 2003 to create a museum dedicated to the man behind his namesake car company. On March 10, 2012, the museum now known as Museo Casa Enzo Ferrari was finally opened to the public.
Built adjacent to Ferrari's birthplace at 85 Via Paolo Ferrari in Modena, the museum stands on a 6,000sqm area and includes a futuristic automotive design gallery that has an aluminum roof painted in yellow to echo the background of the prancing horse on Ferrari's famous logo.
The museum features a multimedia display of pictures, unpublished films and mementos of Enzo Ferrari's life as a man, driver and carmaker throughout the 20th century.
Of course, no tribute to Enzo Ferrari is complete without cars and the Museo Casa Enzo Ferrari has that, with the specimens on display periodically changed to not just show cars that bear his name but also those he worked on prior to putting up his own company. These include the Alfa Romeo race cars he managed that were driven by drivers like Tazio Nuvolari like the 8C 2300 Spider Corsa, the Tipo 158, the P3, and the Bimotore. There's also the Auto Avio Costruzioni 815, the first car he built after he left Alfa Romeo and before he established what is now known as Ferrari S.p.A.
Continue reading below ↓
Recommended Videos
The museum also houses a documentation center, an educational center, a conference room, a bookshop and a cafeteria.
"We'd love this place to become a sort of flag for Modena," said Maurizio Tedeschini, president of the Fondazione Casa Natale Enzo Ferrari. "Not by chance, it is located within a five-minute walk from the historic center. An important investment for the city and for the Emilian region, confirmed once again as the center of the Italian life and motor passion. The new museum is a path through the prancing horse's father's life, dream and myth."
If you're viewing this on a mobile device and can't see the video, please click here.
[gallery]1183[gallery]