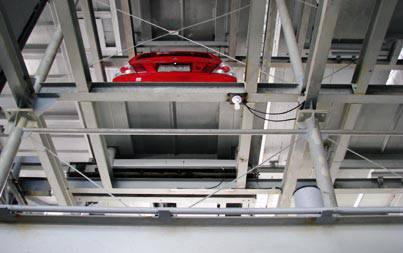 Stress-free parking is no longer just a dream for the eternally harassed Manila driver.
NW Steel Technologies, Inc. has unveiled AutoPark, a one-of-a-kind automated car park across the Silver City mall in Pasig City.

To park, one just needs to drive his car on to a platform and get off it. The driver will then have his fingerprint scanned and the smart parking facility takes note of the match between the driver and the car. Automation then takes over and parks the car "intelligently" at an available slot in the four-storey establishment. AutoPark has a 72-car capacity.

"It takes only 15 seconds to park a car," said Engineer Mario Montejo, NW Steel chief executive and AutoPark technology designer.

When it's time to retrieve the car, the driver just needs to have his fingerprint scanned again and the system will deliver his car to the platform. The platform even rotates so the car faces the exit.

The parking space is run by only three people. NW Steel gives a "no theft, no dent, no scratch" guarantee to those who park in its facility.

Montejo said AutoPark is similar to the technologies used in the United States, Dubai and Greece. The same system is used by Volkswagen in Germany for the storage of its newly-manufactured cars.

"This is really the most cost-effective parking solution today. You don't have to search for a parking space anymore. It's also more environment-friendly since there's hardly any noise and there are no more fuel emissions that come with constantly looking for a parking space," Montejo said.

AutoPark currently has six slots for automated parking. It will be open for passenger cars starting May 11. The rest of the facility will be fully operational within the year.

The technology is currently exclusive to Ortigas & Company properties.
Continue reading below ↓
Recommended Videos