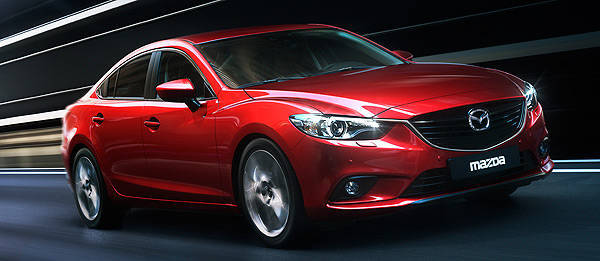 Mazda has finally revealed the sedan version of its 6 midsize car, nearly a month after the Japanese carmaker revealed the new model as a wagon at its Hofu plant in Japan.
Born out of the Takeri concept car that Mazda debuted at the 2011 Tokyo Motor Show, the all-new 6's front fascia incorporates the "signature wing" design which is a unifying element of the new Mazda family design. The creases on the hood, meanwhile, extend from the tips of the signature wing and flow into the body character lines that, from the side, give the impression of a predator that's crouched and ready to leap forward. The rear, meanwhile, displays stability through the well-balanced proportions of the wedged body, prominent rear fender and compact cabin.
As for its interior, the Mazda 6 has a driver-oriented cockpit that offers generous space, while the front passenger gets a sense of both openness and safety with the decorative horizontal line extending through the center panel to the air-conditioning louvers. Soft-touch materials are also used for the door trim and the upper part of the instrument panel. For the three-gauge cluster, white-scale markings appear to stand out from the meter face that features a combination of spindle groove and honeycomb pattern to achieve a feeling of depth and quality craftsmanship.
Continue reading below ↓
Recommended Videos
The all-new 6 also gets Mazda's new brake energy-regeneration system in the Intelligent Energy Loop (i-ELOOP) system, which is the world's first capacitor-based regenerative braking system. The system works by charging a capacitor the moment the driver takes his foot off the accelerator. The electricity stored in the capacitor can then be used to power the car's electric components. According to Mazda, this frees the engine from much of the duty of providing electricity to these components, thereby providing more fuel to power the car, resulting in further improvements in fuel economy.
For the Russian market, the Mazda 6 is being offered with either a 2.0-liter Skyactiv-G engine that produces 148hp and 210Nm of torque, or a 189hp and 256Nm 2.5-liter Skyactiv-G engine. Transmission choices are a six-speed Skyactiv-Drive automatic transmission or a six-speed Skyactiv manual gearbox for the 2.0-liter model, or a Skyactiv-Drive slushbox for the 2.5-liter variant.
"Mazda's superb engineering and craftsmanship have realized a car that handles so well it seems to respond directly to the driver's intentions rather than the physical manipulations of steering, braking and accelerating," said Mazda 6 program manager Hiroshi Kajiyama. "In short, the new 6 offers the 'joy of driving' that people have come to expect from Mazda, but the experience starts even before you get behind the wheel and lingers long after the drive is over."
[gallery]1253[gallery]