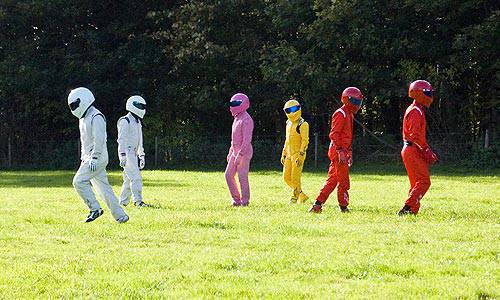 The Stig may have outed himself recently but that hasn't stopped Top Gear from searching for the popular motoring show's newest mascot. British tabloid The Sun recently reported that Jeremy Clarkson joined Richard Hammond and James May in inspecting "a herd of carefully reared mystery racing drivers" in some "secret farm."
In this so-called "farm," Stigs of different colors are bred and are raised with strict orders to never reveal their identity.
The original black-suited Stig and the white-suited one who followed revealed themselves to be Perry McCarthy and Ben Collins in their respective autobiographies.
Though the latest Stig will be unveiled in London next week as part of Top Gear Live, The Sun said Top Gear's TV producers remain mum on the possibility of the new Stig appearing in the show's next season.
Photo from TopGear.com's Transmission Blog
Continue reading below ↓
Recommended Videos