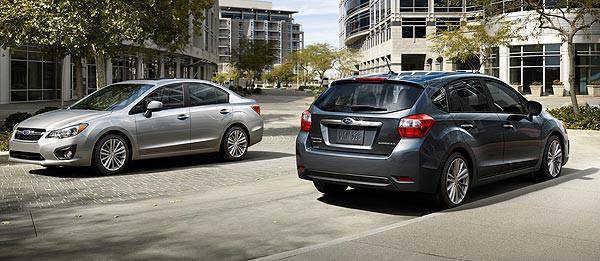 Subaru has finally unveiled the all-new Impreza, which will be sold in the United States market later this year in both four-door sedan and five-door hatchback variants.
According to Subaru, the Impreza is its first model developed with the Japanese carmaker's new brand statement: Confidence in Motion.
"During the development process, we focused on improving environmental friendliness and adapting to changes in customer's values," Subaru said in a statement. "Specifically, Subaru improved fuel efficiency and exhaust performance, utilizing the third-generation boxer engine and the new Lineartronic transmission; enhanced the 'Fun to Drive' experience for more enjoyable and agile driving; and created a roomier interior space with improved comfort and quality, but without an overall increase in size."
The all-new Impreza's front fascia is unmistakably Subaru with its hexagon grille with spread wings in the center, hawk-eye headlights, and wheel arches that emphasizes the all-wheel drive capabilities of its models. The forward placement of the A-pillar and the extended wheelbase hint at a spacious interior while the C-pillar design in the four-door sedan model gives the vehicle a sleek coupe-like styling.
Underneath the all-new Impreza's bonnet resides Subaru's third-generation engine, which was introduced last year and has only seen action very recently locally in the refreshed Forester XS variant. Paired with either a five-speed manual or the new Lineartronic CVT gearbox with its six-speed-manual mode, the 2.0-liter mill is capable of churning out 148hp and 196Nm of torque. Thanks to the lightweight body and excellent aerodynamic properties, the all-new Impreza is now the most fuel-efficient AWD vehicle in the United States.
ADVERTISEMENT - CONTINUE READING BELOW ↓
The all-new Impreza also offers a roomy and comfortable interior while still owning the same size footprint as the current generation Impreza. Out back, the four-door sedan's boot can accommodate four golf bags with the standard 60:40 split folding rear seats substantially increasing the car's cargo carrying capacity when needed. For the five-door hatchback, the cargo area can accommodate up to three golf bags thanks to the lowered and flattened floor while the standard 60:40 split folding rear seats come into play once again to increase cargo space.
[gallery]890[gallery]