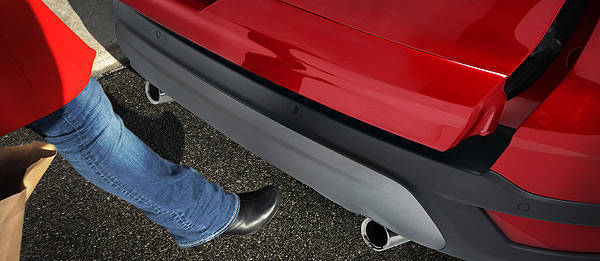 You can tell Ford is getting ready to unveil the all-new Escape because just a week after announcing that the compact sport-utility vehicle will use recycled plastic bottles for its carpet, it will also feature a segment-first hands-free power liftgate.
The next-generation Ford Escape, which makes its debut at the Los Angeles Auto Show on November 16, will be the first SUV to use gesture-based technology--similar to that found in today's video games--to open the rear liftgate.
The system is activated by making a gentle kicking motion under the center of the rear bumper. Once the two sensors in the rear bumper detect a person's gentle shin and kicking motion, it activates the system and raises the liftgate. The same kicking motion closes the liftgate as well.
The system safeguards against accidental opening by being programmed to open with leg motions and not when an animal runs under the car or when the vehicle hits a bump on the road. The liftgate height can also be programmed or adjusted manually to meet specific customer needs.
"The hands-free power liftgate is yet another innovative Ford technology that makes customers' lives easier," said Jason Sprawka, brand manager for the Escape. "New Escape owners will be able to load their vehicle without ever having to set packages or gear down."
Continue reading below ↓
Recommended Videos