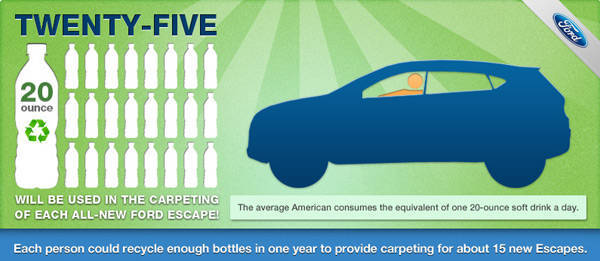 Ford is one carmaker that has embraced using recycled materials for its vehicles; the latest to receive the treatment is the next-generation Escape.
With 25 20-ounce plastic bottles, the American carmaker, through one of its suppliers, uses the material as the carpeting for the all-new Escape sport-utility vehicle (SUV), making this the first time Ford has used this type of carpeting in such a vehicle.
"It's a good use of recycled product and keeps it out of landfills," said Laura Sinclair, a materials engineer for Ford, who shared that part of the recipe to improve the carpet involves adding more plastic bottles to the mix. "The polyester fibers created from pop bottles make up a nonwoven carpet material. So think of it like when you make spaghetti--everything is intermixed. If you have more fibers running on each other --rather than what's underneath, which can be more abrasive--that helps reduce wear."
Also helping to mitigate wear is that the carpeting for the new Escape will be backed with cast foam, which helps reduce road noise and fills in ridges and crevices for a smoother backing.
According to Ford, based on the model's year-to-date sales of 180,000 units more than 4 million plastic bottles could be diverted from landfills by putting them in the all-new Ford Escape.
The all-new Ford Escape, complete with carpets made from recycled bottles, will make its global debut at the Los Angeles Auto Show in November.
ADVERTISEMENT - CONTINUE READING BELOW ↓