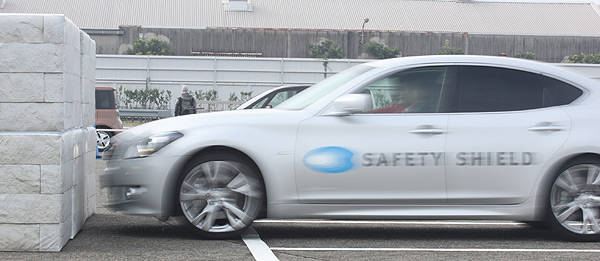 Nissan has revealed the latest safety features based on its Safety Shield concept, which the carmaker hopes will reduce fatal and serious injuries caused by accidents involving vehicles.
The carmaker designed the acceleration suppression for pedal misapplication system that uses images acquired by its around-view monitor's unit cameras. This system recognizes if the vehicle is on a road or in a car park and allow the driver to accelerate or not. The system also makes use of sonar and applies the brakes automatically to help prevent or minimize a collision when the vehicle is in danger of touching or colliding with nearby obstacles. Nissan reportedly hopes to commercialize this technology within two years.
Using the around-view monitor's image-processing technology, Nissan also developed a multi-sensing system with rear camera that detects people, other vehicles and road conditions behind and to the sides of the vehicle, and alerts the drivers of possible collision risks. The system works as:
* a blind-spot warning by alerting the driver through a buzzer and a lamp flashing on the front pillar if the driver activates the turn signal but is unaware of other vehicles traveling in the driver's blind spot;
* a lane-departure warning, which alerts the driver through a buzzer and a signal on the display if the car is drifting into another lane without using the turn signal; and
* a moving-object-detection system where, if the vehicle is backing up and the rear camera's image processing function detects a pedestrian or any moving object around the vehicle, the driver is warned with a buzzer and display signals.
Nissan plans to apply these functions to the around-view monitor in its Elgrand luxury MPV, which will receive some minor changes this November.
Lastly, for Nissan's predictive forward collision warning system, Nissan installed a sensor in the front of the vehicle that analyzes the relative velocity and the vehicular gap existing between the two vehicles in front. When the system determines the need to decelerate, it warns the driver in advance with a buzzer, a signal on the display and by tightening the seat belt.
"Our goal is ambitious," said Toshimi Yamanoi, Nissan's general manager for global safety. "We want to reduce deaths involving our vehicles to 'substantially zero.' Is zero too ambitious? Maybe so--but to set our sights on anything less would be to say that some deaths are acceptable. No death should be acceptable."