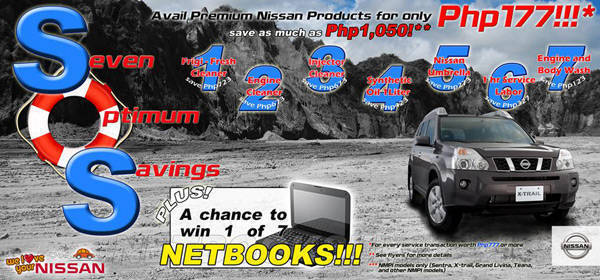 With the onset of the rainy season, Nissan Motor Philippines is showing its commitment to provide excellent customer satisfaction, product quality and commitment to road safety by bringing back its We Love Your Nissan service campaign.
"We brought back the We Love Your Nissan campaign in time for the rainy season to help our customers ensure that their vehicles are running in top condition. We are all aware that wet and slippery roads may lead to common road accidents, so we hope to encourage everyone to have their cars checked and to avail of affordable products and services from authorized dealers," said Nissan Motor Philippines assistant vice president for after-sales and parts Andy Liao.
To complement the campaign, Nissan Philippines is also introducing its Seven Optimum Savings promo, which gives customers Nissan Philippines' products and services at discounted prices.
For every service transaction worth P777 on any Nissan Motor Philippines vehicle, customers will get a coupon that can be used to avail of various Nissan premium items at a reduced price of P177. Customers can save as much as P1,050 for items like frigi-fresh cleaner, engine cleaner, injector cleaner, one liter of synthetic oil, Nissan golf umbrella, one-hour service labor and carwash. Customers will also receive a raffle stub for the chance to win one of seven netbooks.
Continue reading below ↓
Recommended Videos
"Some motorists think that it is more affordable to take their vehicles to a three-star shop. However, less expensive does not always mean best value for money. At every Nissan dealer, we put a premium in exceeding customer's needs and expectations through skilled Nissan factory-trained technicians, high-quality Nissan Genuine Parts, updated technical information and advanced equipment and tools," Liao added.
Nissan Motor Philippines' We Love Your Nissan campaign and Seven Optimum Savings promo is available at all Metro Manila and provincial Nissan dealerships and runs until August 2011.