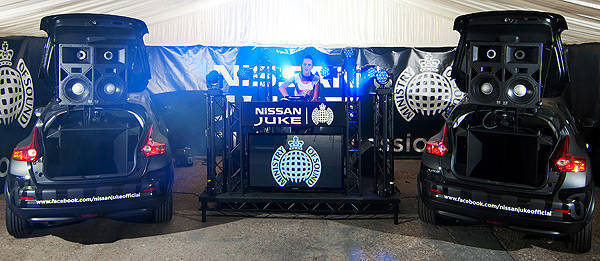 It was bound to happen. Nissan has entered into a long-term brand partnership with record label Ministry of Sound, and the first product to come out of this collaboration is the aptly named Nissan Juke Box (how predictable).
Using a Juke crossover SUV as a platform, Ministry of Sound has turned it into the world's ultimate mobile sound system that--thanks to the technical know-how of Martin Audio's sound experts--pumps out 150 decibels and 18,900W, "completely self-sufficient in terms of power and production."
A custom-built, 19kW rig makes it possible for the Juke Box's sound system to fit into a standard Juke. A set of custom-made cabinets and enclosures house two 18-inch powered sub units, while the same Mid Hi enclosures that are used at Ministry of Sound enable exceptionally loud output without compromising sound quality. The Juke Box also features an integrated radio studio, allowing anything played on the system to be captured for broadcast via Ministry of Sound's digital radio app.
The Nissan Juke Box transforms into a fully functioning PA system, complete with a DJ booth and ambient lighting to make it the perfect touring party venue. Its debut at the festivities during the 24 Hours of Le Mans race weekend proved that "motor sports and music is a match made in heaven."
Continue reading below ↓
Recommended Videos
This past weekend, both Nissan and Ministry of Sound kicked off the 'Juke Box Sessions' European tour. And for the next 12 weeks, the Juke Box's custom sound system, DJ booth and bespoke lighting rig will be put through their paces by some of Ministry of Sound's most popular tour DJs. At every stop of the tour, the Juke Box will capture the exclusive DJ sets played at events through its built-in digital radio studio. Facebook fans can listen to the shows via a widget embedded in the Nissan Juke's official Facebook page.
"We have made a great product that we believe creates excitement through our innovative approach to the small-car market," said Gareth Dunsmore of Nissan Europe's marketing communications. "Ministry of Sound is the industry leader in creating the moments people live for through their bespoke sound systems. Together with Nissan Design Europe, RML and Ministry of Sound, we wanted to challenge the establishment and make something truly unique."
Watch the video.
If you're viewing this on a mobile device and can't see the video, please click here.