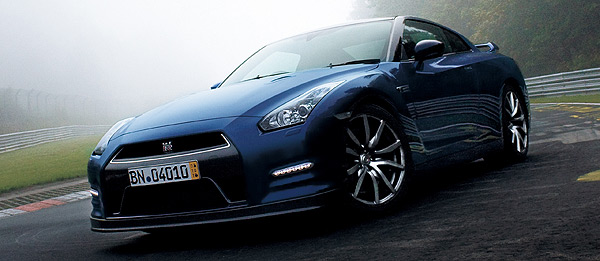 Nissan is updating the GT-R for 2013 by making it more responsive, improving its stability and sharpening its handling thanks to the round of enhancements it has received.
Scheduled to go on sale in the first half of 2013, Nissan's four-wheel-drive supercar has adopted the lessons the Japanese carmaker has learned from its participation in this year's Nurburgring 24-Hour race.
Nissan's engineers have improved the engine's response in both the mid- and upper-rpm ranges. Largely responsible for this are the new high-output injectors that now more precisely control fuel injection; the new relief valve for the turbocharger bypass which suppresses the rapid decrease of forced injection pressure; and the new oil pan baffle that helps maintain a more stable oil pressure and reduces rotational friction especially during high-performance driving.
Reinforcements have also been added to the GT-R's dash panel bar and instrument panel member to increase the body's rigidity and improve the suspension control.
Finally, to improve handling, Nissan has updated the GT-R's suspension setup with revisions to the dampers, springs and front anti-roll bar to lower its center of gravity, while new cam bolts have been installed on the front suspension to improve its camber accuracy and stability when cornering. The torque-carrying capacity of the driveshafts has also been increased to improve reliability in high-stress situations.
Continue reading below ↓
Recommended Videos
With this raft of improvements, Nissan claims the 2013 GT-R is faster by 0.1 second over the 2012 model's 0-100kph time of 2.8 seconds. GT-R creator Kazutoshi Mizuno even claims that the 2013 GT-R's seven-minute, 19.1-second lap time around the Nurbugring Nordschleife circuit was hampered by traffic, making it capable of running a seven-minute, 18.6-second lap--considerably faster than the 2012 model's seven-minute, 21-second lap time on the same circuit.
Impressed?