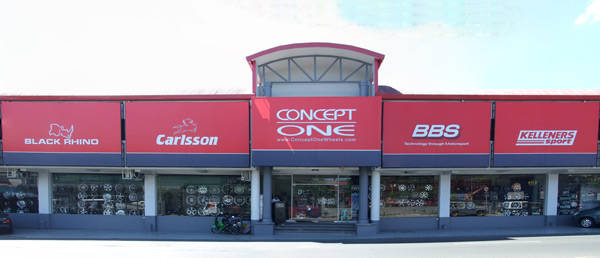 On this very day, Wheel Gallery celebrates its 10th anniversary. In case this is the first time you've heard of the company, it's the distributor of such wheel and tire brands as Concept One, Black Fleet, Petrol, Twenty Inches Strong, Dropstars, Black Rhino, Kelleners Sport, Carlsson, BBS, Nitto and Starfire.
Wheel Gallery managing director Sam Liuson shared with us 10 milestones in the history of his company:
* 2002: Wheel Gallery introduces 17- to 20-inch Concept One alloy wheels.
* 2003: Wheel Gallery launches Bazo, MKW and MB wheels, as well as 20- to 24-inch Nitto tires.
* 2004: American Racing appoints Wheel Gallery as the official distributor for Twenty Inches Strong and Dropstars, popular brands for 20- to 26-inch SUV rims.
* 2005: TSW appoints Wheel Gallery as distributor for TSW, Petrol, Black Rhino, and Victor Equipment (for Porsche) wheels. Also, Avon and Starfire tires are launched.
* 2006: The Hit My Ride radio show with the Aftermarket Mafia (of which Liuson was a founding member) airs on 99.5RT, significantly contributing to the rising popularity of Wheel Gallery.
* 2007: Rays Engineering appoints Wheel Gallery as distributor for Black Fleet and Sebring wheels. VCT and Scorpion SUV wheels also arrive.
* 2009: Concept One and Starfire tires are officially approved as the official wheel and spec tire of the Philippine Touring Car and Philippine Production Car Championships, both series sanctioned by Automobile Association Philippines.
* 2010: Concept One and Nitto are still the official wheel and spec tire of the Philippine Touring Car Championship. Wheel Gallery also stages the "Race of Champions," an invitational race series participated in by former racing champions in the country.
* 2011: Wheel Gallery is appointed as the official representative of BBS International GmbH, Carlsson Autotechnik GmbH, and Kelleners Sport GmbH.
* 2012: Wheel Gallery expands its showroom to showcase more wheels and specially customized vehicles.
As we reported here last Friday, Wheel Gallery is holding a "Sale of the Decade" clearance-sale event. According to Liuson, this sales activity will run until September 21 or until supplies last.