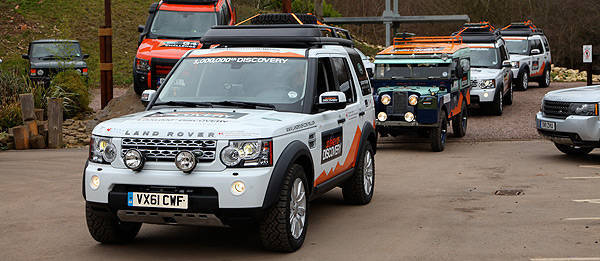 Land Rover has produced the one-millionth Discovery sport-utility vehicle at its Solihull manufacturing plant near Birmingham in the United Kingdom. The landmark unit, however, won't go to a dealership to be bought by a private owner. To celebrate this milestone and demonstrate the Discovery's class-defining versatility and all-round capability, the British carmaker will drive it and two other Discoveries through more than a dozen countries across Europe and Central Asia, and conclude its tour at the Beijing Motor Show on April 23.
The challenge follows in the tire tracks of The First Overland Expedition of 1955 when a team in a Series 1 Land Rover set out from Birmingham to Beijing. Although that particular expedition had to divert to Singapore, the Discovery will be crossing many of Land Rover's major markets like the UK, Russia and China, in the spirit of the original challenge.
"The Discovery is an extraordinary vehicle and it deserves to be unleashed on an extraordinary journey," said Phil Popham, Jaguar Land Rover group sales operations director. "There is no better vehicle to tackle all weather, all terrain than the Discovery 4. This gruelling expedition will be visiting 13 countries and covering 8,000 miles, and it's a fitting initiative to celebrate the one millionth vehicle."
Continue reading below ↓
Recommended Videos