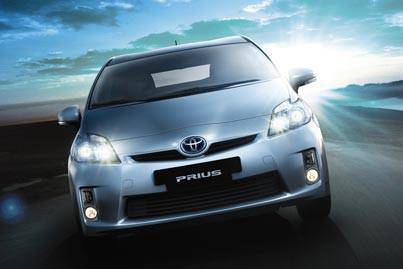 If you want to be one of the first Prius owners in the Philippines, you might want to scamper towards the nearest Toyota dealership right about... now.
Toyota executives revealed only 100 units of the third-generation Prius will be sold in the Philippines - at least for this year. Toyota chairman Hiroshi Ito said about 30 units are already in the country.
ADVERTISEMENT - CONTINUE READING BELOW ↓
All Toyota Prius units which will be sold in the Philippines are imported from Japan.
"There's a supply limitation because it's so popular and the launch is done simultaneously in other markets," Toyota first vice president Daniel Isla told reporters at the sidelines of the Prius launch. The third-gen Prius will be sold in 80 countries.
The 1.8-liter Prius is the first commercially available hybrid car in the Philippines. It can run as far as 38 kilometers to a liter, depending on the driving conditions and on one's driving style.
But with a P2.25-million price tag, Isla said the Prius buyers are not exactly motorists who just aim to save on fuel.
"Look at the buyers in the States. The people who will buy this are those who want to make a statement," Isla added. Popular Prius owners include Hollywood stars like Leonardo diCaprio and Cameron Diaz.
Isla, who is likewise the president of Lexus Manila, said at least five Lexus buyers have already made inquiries about the Prius. Lexus is the luxury brand of the Toyota group.
ADVERTISEMENT - CONTINUE READING BELOW ↓
Recommended Videos
The Prius has been in the global market since its debut in 1997. Toyota has sold more than 1.25 million units of the Prius and more than 400,000 units of its other hybrids as of March 2009. With an 80 percent share in the global hybrid market, the Japanese carmaker said it has kept as much as "nine million tons of carbon dioxide" out of the earth's atmosphere.