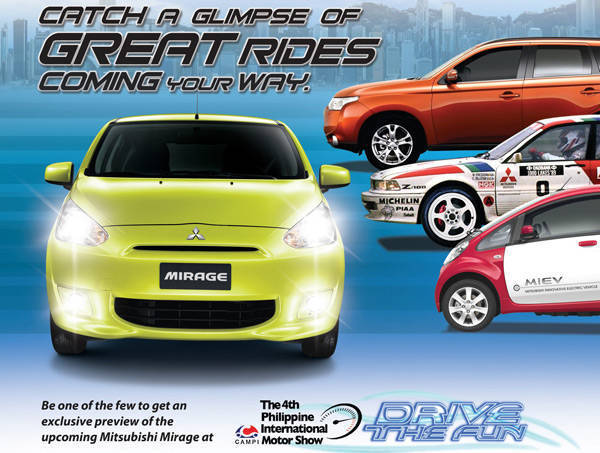 Mitsubishi Motors Philippines (MMPC) will be giving us a look at not just the Mirage subcompact hatchback at the 4th Philippine International Motor Show on August 16-19, 2012, but also the all-new Outlander crossover SUV.
The Mirage's appearance is expected as none other than MMPC executive vice president Taizo Furuhashi revealed to TopGear.com.ph at last year's Tokyo Motor Show that it will formally reach our shores later this year.
The Outlander's appearance at PIMS, however, came under the radar as the Japanese carmaker's local subsidiary gave no inkling of it coming to the motor show. Until now, that is. The purpose of its presence in the motor show is most likely to gauge the local market's acceptance of it. Mitsubishi announced at the new-generation Outlander's public debut at this year's Geneva Motor Show that the car will first go on sale in Russia later this year before it goes on sale globally.
The all-new Outlander's arrival in the Philippines is also timely as the last time the Outlander was sold here was in 2010. When MMPC discontinued its sale here, the company cited the appreciation of the yen making the vehicle's importation too expensive for the local distributor.
Other Mitsubishi models that will be gracing the four-day event set to be held at the World Trade Center in Pasay City, are the iMiEV electric car and the Galant VR-4 rally car driven by Japanese rally legend Kenjiro Shinozuka.
Continue reading below ↓
Recommended Videos
Of course, joining the above-mentioned special display cars are MMPC's regular offerings like the Strada, the Montero Sport, the Lancer EX and the Fuso line of trucks.
Also available for test drive at the event are the iMiEV, the 1.6-liter Lancer EX, and the ASX.