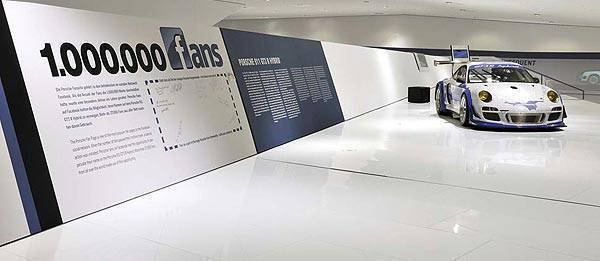 Porsche's Facebook page recently reached a milestone when its one-millionth fan signed up, making it one of the largest and most popular social networks on the Internet. To celebrate the occasion, the German carmaker has adorned a Porsche 911 GT3 R Hybrid with signatures of more than 27,000 of its fans.
According to Porsche, the 911 GT3 R Hybrid was chosen to be decorated with the signatures because "it impressively embodies the future of motorsport," which the company calls Porsche Intelligent Performance.
The system used in the 911 GT3 R Hybrid is very different from the conventional hybrid systems found in many hybrid road cars today. It is powered by a 480hp 4.0-litre six-cylinder flat-twin engine complemented by an electric front axle drive with two electric drive motors each pumping out 60kW (roughly 80hp). Instead of batteries, however, the electric motors are powered by an electric flywheel accumulator which is charged during braking.
The 911 GT3 R Hybrid has already proven its race-worthiness after it competed in the 24 Hours on the Nordschleife of Nürburgring in May of last year.
The signature-laden Porsche 911 GT3 R Hybrid is on display at the Porsche Museum in Stuttgart, Germany.
[gallery]796[gallery]
Continue reading below ↓
Recommended Videos