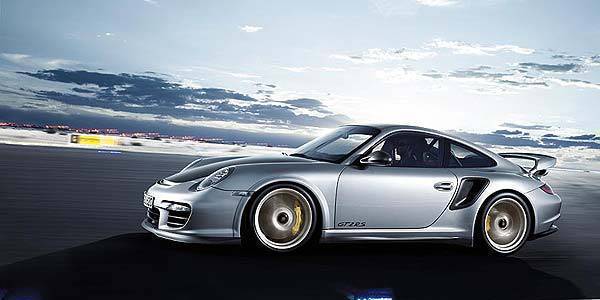 Porsche can never seem to stop working on its iconic 911 sports car. After revealing the Turbo S and GT3 R Hybrid at the Geneva International Motor Show, the German carmaker is planning to unleash its fastest and most powerful road-going sports car.
The Porsche 911 GT2 RS is packed with a 3.6-liter twin-turbo flat-six engine that produces 620hp while only weighing 1370kg in full road trim--making it 90hp more powerful and 70kg lighter than the already light and burly 911 GT2. A six-speed manual transmission delivers all this power to the rear wheels with a zero to 100kph sprint taking 3.5 seconds while a zero to 200 and 300kph runs will take just 9.8 and 28.9 seconds, respectively. The Porsche 911 GT2 RS tops out at 330kph. At just 2.21 kilos per horsepower, it also has the best power-to-weight ratio in its class.
Continue reading below ↓
Recommended Videos
Despite the increased power and performance, the GT2 RS's fuel consumption and carbon dioxide emissions are down by approximately five percent to 11.9 liter per 100km and 284 g/km against the "regular" 911 GT2.
The Porsche 911 GT2 RS' exterior is visually distinct from the 911 GT2 with its wider wheels and flared wheel arches at the front as well as the use of the GT 2's light alloy central-locking wheels and the GT2 RS badges on the doors and rear lid. Porsche's high-performance car also makes prodigious use of matte-black finished carbon-fiber-reinforced components, particularly with the upgraded front and rear spoiler lips that are now 0.4 inches higher to ensure the right aerodynamic precision to create additional downforce.
Inside, the 911 GT2 RS is all about sporting performance as evidenced by the lightly-padded carbon fiber-reinforced bucket seats and the lightweight door panels that come with matching door opening straps. As a direct contrast to the mostly black interior, the GT2 RS' seat center section, roof lining as well as some segments of its steering wheel rim are done in red. Also getting the red treatments is the gearshift and handbrake lever though both are done in alcantara.
Porsche is producing only 500 units of the 911 GT2 RS, which will be released in Europe in September at 237,578 Euro (more than P13.45 million). The sports car will be unveiled at the Moscow Auto Show scheduled on August 25.