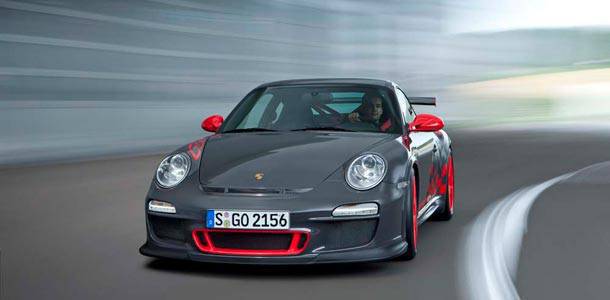 Porsche AG has unveiled the 2010 911 GT3 RS ahead of its planned commercial sale in January 2010.
Developed as a lightweight, track-ready version of the 911, the new GT3 RS builds on the qualities its predecessors are known for, complete with an upgraded body and suspension components that packs more engine power with shorter transmission ratios.
The 911 GT3 RS comes with a naturally-aspirated engine with a larger displacement at 3.8 liters. It is capable of putting out 450 horses on the ground--15 more horses over its bog-standard 911 GT3 kin. But even if its engine has a specific output of more than 118 horsepower per liter from its flat-six engine, the 2010 911 GT3 RS can still be used as a daily driver.
Continue reading below ↓
Recommended Videos
Helping translate the engine's power to the rear wheels is a six-speed manual gearbox that, according to Porsche, has been "optimized for short gearshift travel, low weight and high efficiency" due to the much shorter ratios compared to those found in the 911 GT3.
The RS comes with dynamic engine mounts that adjust their stiffness and damping effect based on the driving conditions. The 911 GT3 RS also comes with a purpose-built PASM (Porsche Active Suspension Management) suspension with wider front and rear tracks due to its larger wheel arch covers.
On the outside, the Porsche 911 GT3 RS' racing heritage is displayed through the low ride height, the extra-large carbon-fiber rear wing mounted on a pair of specifically designed aluminum struts, and the lightweight titanium exhaust system that's topped off by dual tailpipes.
As an added option to help the already-lightweight GT3 RS, Porsche will be introducing a track-intended lithium-ion battery to replace the conventional lead battery and reduce weight by more than 10 kilograms.