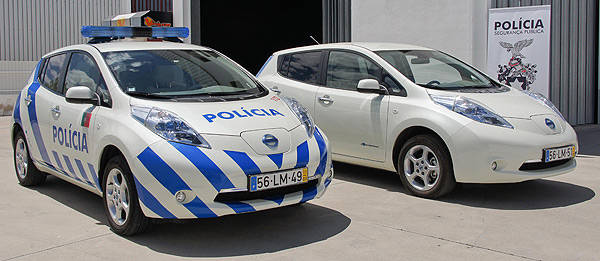 Criminals in Portugal should be wary if they're "on the job" as the country's police force can now sneak up on them silently, thanks to the addition of eight Nissan Leaf units to their fleet.
The eight Leaf police cars will be operated by Portugal's Policia de Seguranca Publica (PSP), the country's law enforcement agency that looks after its large urban areas.
Though the zero-emission cars will be used mainly for the agency's Safe School Program, their flashing blue lights, sirens and 'Policia' markings mean that they can be assigned to perform other police duties at any time.
"We pride ourselves on being the first police force in the world to incorporate cars with zero-emission technology as part of our 5,000-vehicle fleet," said PSP's national director, Superintendent Paul Gomes Valente. "We want to continue contributing to the reduction in pollution in large urban centers, and the introduction of the 100-percent electric Nissan Leaf sets a new benchmark for our fleet."
The Nissan Leaf was chosen by the PSP as part of its push to reduce its carbon footprint, and that's not surprising. After all, Portugal is an electric-vehicle pioneer in Europe, being one of the first countries to install a network of EV chargers in its major cities and the first to sell the Leaf when it was introduced in 2011.
Continue reading below ↓
Recommended Videos
So...any chance our Philippine National Police could go electric soon?