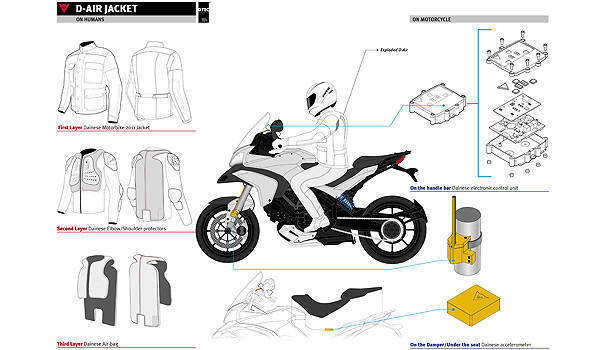 Dainese, an Italian brand of protective apparel, has launched D-air Street, a road-going version of the D-air Racing gear launched earlier this year that incorporates airbags into the clothing.
The D-air Street's system is composed of the Motorcycle Kit (MKit) and either an outer waistcoat or jacket that host the airbags. Fitted to the motorcycle, the MKit features a pair of accelerometers--one under the seat, and the other on the front forks--and functions as the brain of the system. Also included is a fall sensor that is connected to a display unit to inform the rider of the system's status. There are also two cold automotive-type gas generators that are run by battery-powered electronics with an average life of 30 hours and a charging time of five hours. Inside the clothing garment is the airbag device that features two 12-liter airbags.
The D-air Street system has been designed to protect the spine in conjunction with a back protector, limit neck movement while rolling, and to protect the upper abdomen and chest. The unit automatically switches on when the ignition is started and communicates with the airbags via a two-way radio link. Once activated, the MKit detects the airbags and the rider is alerted of the system's status via the display. The system is set to identify head-on collisions with a 45-degree-angle impact or a slide. When triggered the airbags are deployed within 45 milliseconds to protect the wearer.
Continue reading below ↓
Recommended Videos
A D-air Street-clad pillion passenger can also be protected by the system by linking into the MKit.
Dainese's D-air Street is available in three garment styles, an outer waistcoat, gore-tex jacket and a textile jacket, which has removable sleeves for all-round use. Along with the airbag system, each garment also includes a fitted back protector, and removable shoulder and elbow protection save for the waistcoat. Standard features also include removable thermal liners, outside pockets and adjustable waistbands.