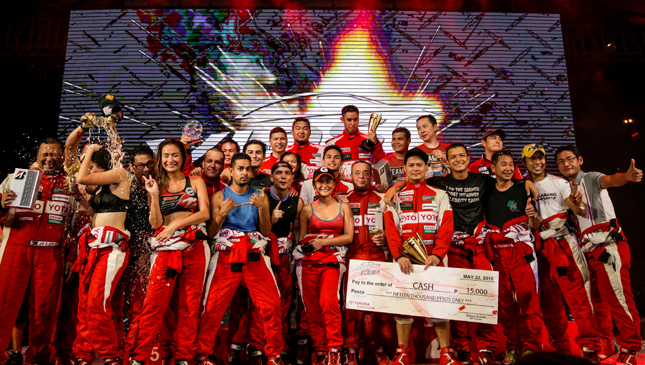 For the second leg of the 2016 season of the Vios Cup last weekend, Toyota Motor Philippines decided to hold the one-make race series south of Metro Manila--in Filinvest City in Alabang, to be exact. The venue was literally the tightest leg in the competition's three-year history, with some sections of the track barely able to accommodate two cars running side by side.
Not surprisingly, 2015 champ Andres Calma maintained his lead in the Super Sporting Class with another great day behind the wheel. He finished in the top spot in Races 1 and 2. Dominic Ochoa wound up in second place in both races, while Raymond Ronquillo and Allan Uy each grabbed a third-place spot in the two races. If Calma can maintain his level of performance in the next legs, he'll be the event's first-ever back-to-back champion.
The top results for the Sporting Class were identical in both rounds, possibly due to the difficulty of overtaking on such a tight track. Sean Velasco edged out Miko Maristela, JV Ejercito and Steve Bicknell in Races 1 and 2 on his way to a pair of first-place finishes. The latter three placed second, third and fourth in both rounds. Race 1 began in chaotic fashion as a pileup ensued after a vehicle failed to start due to mechanical problems. In another surprising turn of events, former promotional class driver Sam YG was able to snag the fastest lap time overall despite failing to finish any of the races.
In the Promotional Class, Jinno Rufino continued to establish himself as the new celebrity standout with two more convincing victories. Marc Martinez and Bobby Pangilinan finished second and third in Race 1, while Martinez would surrender second-spot honors to Aira Medrano in Race 2. Newcomer Jericho Rosales continued to improve, taking home fastest lap honors in the class, while crowd-favorite Arci Muñoz finally made her debut on the grid.
ADVERTISEMENT - CONTINUE READING BELOW ↓
Can Andres Clama maintain his hot streak in the coming races? Find out in the third leg of the 2016 Toyota Vios Cup. Below are the official results from the just-concluded second leg.
2016 Toyota Vios Cup
Leg 2
CLASS
POSITION
DRIVER
RACE 1
Promotional Class
1st place
Jinno Rufino
2nd place
Marc Martinez
3rd place
Bobby Pangilinan
Sporting Class
1st place
Sean Velasco
2nd place
Miko Maristela
3rd place
JV Ejercito
Super Sporting Class
1st place
Andres Calma
2nd place
Dominic Ochoa
3rd place
Raymond Ronquillo
RACE 2
Promotional Class
1st place
Jinno Rufino
2nd place
Aira Medrano
3rd place
Marc Martinez
Sporting Class
1st place
Sean Velasco
2nd place
Miko Maristela
3rd place
JV Ejercito
Super Sporting Class
1st place
Andres Calma
2nd place
Dominic Ochoa
3rd place
Allan Uy
SPECIAL AWARDS
AVT
Best Male Celebrity Driver
Jinno Rufino
Best Female Celebrity Driver
Joyce Pring
Brembo
Driver of the Day
Andres Calma
Most Improved Celebrity Driver
Jericho Rosales
Bridgestone
Andrenaline Rush
Joyce Pring
Catch Me If You Can
Phoemela Baranda
Denso
Fastest Lap (Super Sporting Class)
Andres Calma
Fastest Lap (Sporting Class)
Sam YG
Fastest Lap (Promotional Class)
Aira Medrano
Motul
Slingshot Award
Robert Lilles
Stunner of the Day
Phoemela Baranda