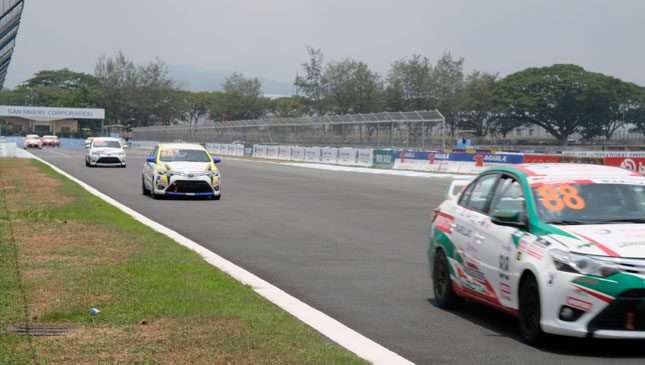 The Vios Cup is once again in full swing. Now in its fourth season, the races got off to a roaring start this past weekend at the Clark International Speedway. The action on the track was just as hot as the summer heat surrounding the cars.
For the Celebrity Class, Fabio Ide and Dominic Roque went tit-for-tat for first and third places. Ide took the top spot in the first race, while first-timer Roque finished first in the second. Returning driver Jasmine Curtis-Smith kept a steady pace, finishing second in both races.
The Promotional and Sporting classes saw the most changes in podium finishers. The former saw Don Vic Portugal and Evelyn Coseteng finish on top in the first race, while Red Diwa and Roy Bunag took the second. Arbie Jacinto took third in both races. The Sporting Class, meanwhile, had new top finishers in each race: Tonton Ramos, Paul Lomax, and Mark Sy in the first, and Lord Seno, Sean Velasco, and Paul Henderson Perez in the second.
ADVERTISEMENT - CONTINUE READING BELOW ↓
In the Super Sporting Class, it was young racer Daniel Miranda who impressed on the day, finishing first in both races. Regular podium finisher Allan Uy finished second both times, while Gerard Loy and Andres Calma took a third place finish each.
See the table below for the full results, and don't forget to watch the upcoming legs of the Vios Cup season four later this year.
2017 Toyota Vios Cup
Leg 1
CLASS
POSITION
DRIVER
RACE 1
Celebrity Class
1st place
Fabio Ide
2nd place
Jasmine Curtis-Smith
3rd place
Dominic Roque
Promotional Class
1st place
Don Vic Portugal
2nd place
Evelyn Coseteng
3rd place
Arbie Jacinto
Sporting Class
1st place
Tonton Ramos
2nd place
Paul Lomax
3rd place
Mark Sy
Super Sporting Class
1st place
Daniel Miranda
2nd place
Allan Uy
3rd place
Gerard Loy
RACE 2
Celebrity Class
1st place
Dominic Roque
2nd place
Jasmine Curtis-Smith
3rd place
Fabio Ide
Promotional Class
1st place
Red Diwa
2nd place
Roy Bunag
3rd place
Arbie Jacinto
Sporting Class
1st place
Lord Seno
2nd place
Sean Velasco
3rd place
Paul Henderson Perez
Super Sporting Class
1st place
Daniel Miranda
2nd place
Allan Uy
3rd place
Andres Calma
ADVERTISEMENT - CONTINUE READING BELOW ↓
Recommended Videos