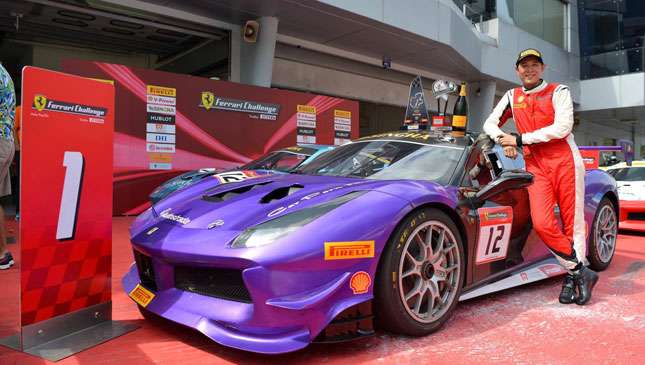 After a solid second place finish at the 2017 Ferrari Challenge Asia Pacific Japan leg, Angie King was able to beat everyone in her Pirelli AM class, and land the top podium spot in the Malaysia leg held over the weekend.
Racing in her purple and black Ferrari 488 Challenge race car, King battled it out with Yanbing Xing from China. Xing started from pole, but fell to third after King's relentless attack and after suffering a hit on Lap 8.
Here's what happened in Angie's own words: "Coming from a poor finish yesterday due to my collision with car number 68, I was determined to push harder for today's (August 27) race. During qualifying, I was seventh on the grid and second in my class, but by the first corner I was apparently already first in my class.
Continue reading below ↓
Recommended Videos
"With some rubbing with the other drivers, we battled for positions. Because it's a mixed grid, I didn't know what my standing was until the end. Overall I came in fifth next to the pro drivers, and first overall in the Pirelli AM class. I was truly surprised when they guided me to the number one spot, as I was hoping I would get a podium finish at least.
"Sepang has been a very challenging track with the heat and fast sweeping corners; I was very surprised with the outcome. I want to thank Ferrari Philippines for all the support, and to my crew and supporters who believed in me, and I dedicate this win to my dad in heaven."
Angie's next leg will be in Ferrari's home country: Italy. If she maintains her form and focus, we'll likely see her clinch another podium spot.
Congratulations Angie, and keep it up!