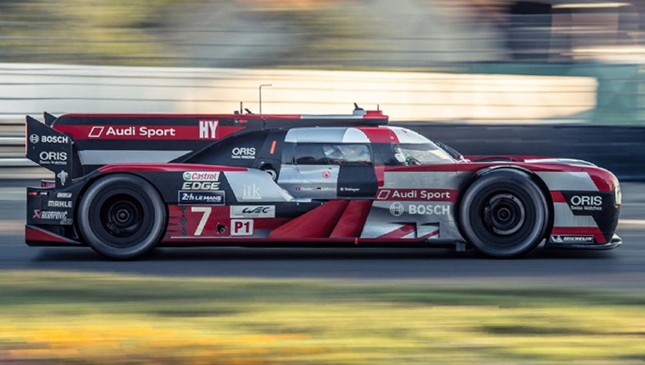 Big news, this: Audi's World Endurance Championship campaign will come to an end this year. In more basic terms, Audi's dominating presence at Le Mans is over.
Since its entry into top flight sports car racing, Audi hasn't finished outside of the Le Mans 24-hour podium. It has won 13 of the 18 twice-round-the-clock races it has competed in. It holds the claim of the first team to win with both diesel and hybrid cars, too, and has taken 106 wins and 94 fastest laps from its 185 races.
You'd forgive Audi for competing in endurance racing forever with a record like that, but an announcement by chairman Rupert Stadler has confirmed its focus is shifting to the all-electric Formula E series, turning its support of Team ABT Schaeffler Audi Sport into a full works effort.
"We're going to contest the race for the future on electric power," Stadler said. "As our production cars are becoming increasingly electric, our motorsport cars, as Audi's technological spearheads, have to even more so."
ADVERTISEMENT - CONTINUE READING BELOW ↓
It chimes with new Audi Sport boss Stephen Winkelmann's concerns about the attention spans of motorsport viewers. And with an urgency unfamiliar to announcements in the road car world, the switch is almost immediate. The current WEC season will be Audi's last, its Formula E campaign beginning in 2017.
Audi's involvement in the German touring car series--DTM--continues, and has teased further involvement in rallycross with electric power part of its entry.
"After 18 years in prototype racing that were exceptionally successful for Audi, it's obviously extremely hard to leave," Audi's motorsport boss Dr. Wolfgang Ullrich said. "Audi Sport Team Joest shaped the WEC during this period like no other team. I would like to express my thanks to our squad, to Reinhold Joest and his team, to the drivers, partners and sponsors for this extremely successful cooperation. It's been a great time!"
Do you think Audi's made the right choice? Would you rather watch Formula E than endurance racing?
ADVERTISEMENT - CONTINUE READING BELOW ↓
Recommended Videos
NOTE: This article first appeared on TopGear.com. Minor edits have been made.