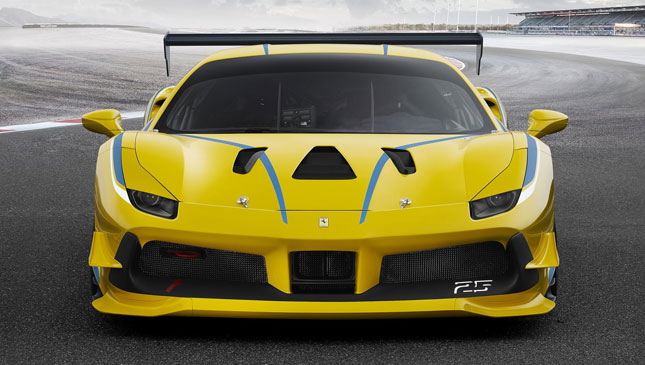 Last weekend's Ferrari World Finals wasn't just an opportunity to do some skids, sell some Prancing Horse key rings, and look back and quickly try to forget a mediocre year in Formula 1. No, it also offered an opportunity to gaze into the future. Something made a little easier with this, the new Ferrari 488 Challenge car: a stripped-out 488 track-only lightweight set to replace the aging 458 in next year's Ferrari Challenge Series.
The Challenge Series is Ferrari's single-make championship that was set up in the early '90s to benefit 348 owners who had an itch for racing but no way to scratch it. Since then, many gentleman racers have sniffed out the world's gravel traps, but some pros and amateurs have gone on to graduate into Grand-Am, IMSA, WEC, and even the 24 Hours of Le Mans.
The 488 Challenge is the sixth—and most powerful—model to enter the series. And like the 488 road car, the race car has made the transition to turbocharging.
ADVERTISEMENT - CONTINUE READING BELOW ↓
It's the first Challenge car to do so and is bringing quite the punch with it—a 660hp haymaker from the 3.9-liter V8. Compared to the road car, its racing sibling features specific engine mapping for the track, lighter packaging and shorter gear ratios. Talking of transmissions, the F1 DCT 'box features a new racing shift strategy which enables the car to accelerate from a standstill to maximum revs in 4th gear in just six seconds. What that equates to in kph, we don't know. But expect it to be a lot.
With regard to dynamics, Ferrari's voodoo drift-happy Side Slip Control (SSC) software has trickled down to the Challenge car. Giving drivers more traction to improve turn-in, cornering, and acceleration out of corners and get all that power to the ground via those sticky tires.
There's also lots of aero. Lots and lots of wonderful aero protruding out of the curvaceous bodywork to help stick the car to the ground mid-corner. As you can see, the front radiator has been remodeled—inverting the rake to improve aero and reduce drag. There's also that angry new front bumper with a jutting chin spoiler and gurneys to balance the car more effectively front-to-rear. A 7% improvement, apparently.
Then someone's gone to town with the angle grinder to create three vents in the front hood to direct the hot air and increase stability. Something compounded by that huge rear wing. Elsewhere at the back, the engine air intakes are now positioned laterally under the rear spoiler, to take advantage of all the high pressure that's built up there at high speeds. Oh, and it's got covers over its headlights a la FXXK that make it look a bit drowsy.
Inside, every non-essential has been stripped out to save weight and there's a new simplistic (in Ferrari terms) steering wheel that now has three Manettinos: one for braking, one for traction control, and the final one to dial up the electronic differential.
All of these changes have resulted in lopping a whole second off the 458 Challenge Fiorano lap time, crossing the line at a new record of 1'15.5". That's nearly eight seconds faster than the road car, which is a bit nuts.
But, just like the road car, prepare for your ears to be disappointed when hearing the 488 Challenge compared to its forefather. The screaming shrill of the old car will be muted in the 488—more linear, controlled, and industrial sounding—because of those two snails bolted on to the engine. But power is up. And power is good. And there's no denying it is fast. So do we want one any less? Hell no.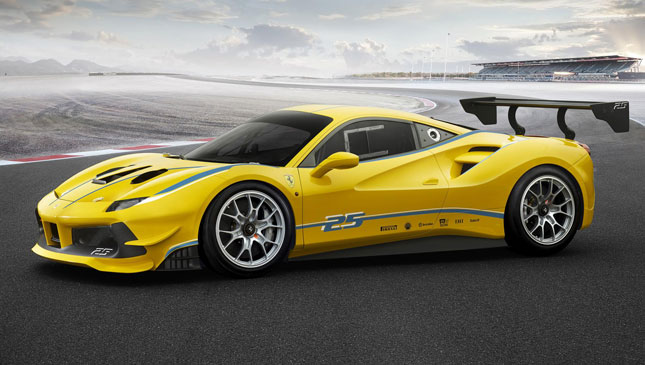 ADVERTISEMENT - CONTINUE READING BELOW ↓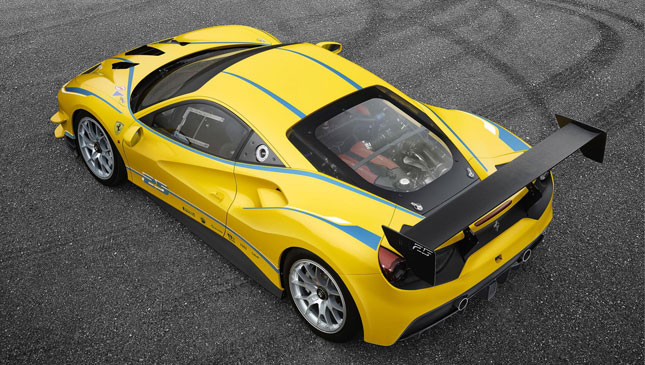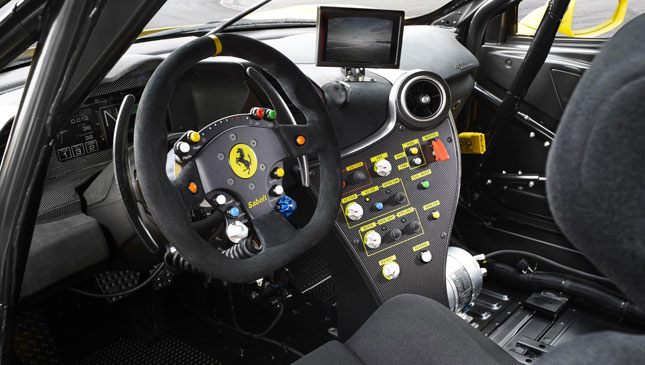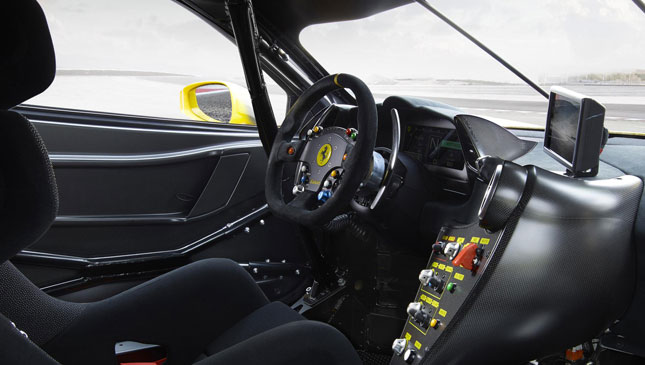 NOTE: This article first appeared on TopGear.com. Minor edits have been made.