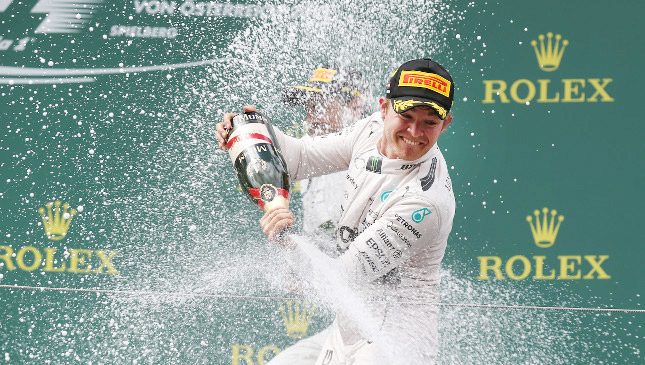 After 71 laps of racing that culminated in another Mercedes one-two cruise, our best takeaway from the Austrian Grand Prix is this: Lewis Hamilton's championship lead over Nico Rosberg is down to just 10 points.
That's courtesy of a categorical victory for Rosberg, achieved by snatching the lead from pole-sitter Hamilton by Turn 1 of the opening lap. He actually had a good shot at nabbing P1 as early as the day before, when Hamilton spun out at the start of his final qualifying lap, but he threw away the chance by also running off the track with two corners to go in his own run.
Mere seconds into the race, Kimi Raikkonen triggered an early safety car when his Ferrari snapped violently coming out of Turn 2. He and Fernando Alonso were the casualties of what the stewards deemed to be a racing incident, with the McLaren launching over the Ferrari as both cars slid into the barriers.
When the racing resumed on Lap 7, Rosberg immediately pulled out a gap of 1.5sec to head the procession over Hamilton, Sebastian Vettel in the surviving Ferrari, and Felipe Massa in the lead Williams. Most of the action was provided by those running behind. Of note, Valtteri Bottas took back P6 from Max Verstappen after losing it off the line, passed recently crowned 24 Hours of Le Mans winner Nico Hulkenberg for P5, lost the position when Hulkenberg undercut him in the pits, then gained it back later on the track.
Continue reading below ↓
Recommended Videos
The pit stops of the top four runners then sealed the final podium positions. Hamilton suffered a further setback when he crossed the white line on pit exit and was given a five-second time penalty. This meant he would have to overtake Rosberg and eke out a lead of over five seconds in order to win. Meanwhile, Ferrari gifted third place to Williams for the second race running, this time via a very slow pit stop for Vettel. The German tried to mount pressure on the Brazilian, but he eventually had to settle for fourth.
Apart from Massa versus Vettel, the other battles in the last 10 laps were between Felipe Nasr and Daniel Ricciardo for P10, and Verstappen and Pastor Maldonado for P7; sandwiched between them was Sergio Perez running a lonely P9. In both cases, the chasing drivers gained position, although Maldonado had a sideways scare when he pulled out of the slipstream to pass Verstappen with two laps to go.
Behind Nasr in P11, rounding out the 14 finishers were Daniil Kvyat (whose Red Bull had sustained damage in a first-lap incident), Marcus Ericsson, and Roberto Merhi. The other non-finishers aside from Raikkonen and Alonso were Will Stevens (oil leak), Jenson Button (electrical issues), Carlos Sainz (loss of power), and Romain Grosjean (gearbox).
Clippings from the Austrian GP
* Fastest lap: N. Rosberg, 1:11.235 (Lap 35)
* Team radio talk: It looks like the only way McLaren could be on top of Ferrari this season is in the literal sense. When Jenson Button saw his teammate's car balanced over Raikkonen's, he immediately asked for an update: "Is Fernando okay? Is Fernando okay?" Top man, JB.
* Oops: Quite a number of self-inflicted driver errors in Austria. Apart from Lewis Hamilton's misjudged pit exit, Marcus Ericsson's jump-start and Carlos Sainz's pit-lane speeding kept the stewards busy.
* Celebrity moment: New Honda president and CEO Takahiro Hachigo witnessed firsthand how his company's F1 efforts are faring. Maybe next time, he'll witness something other than a double-retirement.
* Top tweet: Rosberg and his mechanics were obviously very happy with this victory...
Don't drop him, guys...an excited Nico Rosberg goes crowd surfing with his mechanics after winning the #AustrianGP pic.twitter.com/caHS5G5YJo

— Formula 1 (@F1) June 21, 2015
* Pirelli tire stats: Friday practice times indicated a one-stop race. This became even easier to pull off after the early safety-car period.
#AustrianGP Our Supersoft-Soft strategy prediction turned to be successful for @MercedesAMGF1. See all the tyres used pic.twitter.com/SgAnEVkYVF

— Pirelli Motorsport (@pirellisport) June 21, 2015
* Quote of the race: While conducting the podium interview in front of his home crowd, former F1 driver Gerhard Berger said "sh*t" after confusing Rosberg for Hamilton, and exclaimed, "Felipe, old man"--all in three minutes. He probably meant "my longtime friend" with that last one, but he also called Massa "very, very experienced" in the same breath. Too many Jägerbombs in the Red Bull motorhome?
Photos from Mercedes AMG Petronas and Williams Martini Racing
Austrian Grand Prix race results
Finishing position
Driver
Starting position
Time/Gap
1
N. Rosberg (Mercedes)
2
1hr 30:16.930
2
L. Hamilton (Mercedes)
1
+8.800
3
F. Massa (Williams)
4
+17.573
4
S. Vettel (Ferrari)
3
+18.181
5
V. Bottas (Williams)
6
+53.604
6
N. Hulkenberg (Force India)
5
+1:04.075
7
P. Maldonado (Lotus)
10
+ 1 lap
8
M. Verstappen (Toro Rosso)
7
+1 lap
9
S. Perez (Force India)
13
+1 lap
10
D. Ricciardo (Red Bull)*
18
+1 lap
11
F. Nasr (Sauber)
8
+1 lap
12
D. Kvyat (Red Bull)*
15
+1 lap
13
M. Ericsson (Sauber)
11
+2 laps
14
R. Merhi (Marussia)
16
+3 laps
DNF
R. Grosjean (Lotus)
9
DNF
C. Sainz (Toro Rosso)
12
DNF
J. Button (McLaren)*
20
DNF
W. Stevens (Marussia)
17
DNF
K. Raikkonen (Ferrari)
14
DNF
F. Alonso (McLaren)*
19
*These drivers originally qualified in the indicated positions (but were given corresponding grid-place penalties for activation of power-unit elements beyond the allocation): D. Ricciardo, P14 (10-place grid penalty); F. Alonso, P15 (20-place grid penalty); J. Button, P17 (25-place grid penalty); D. Kvyat, P8 (10-place grid penalty). F. Alonso was given an additional five-place grid penalty for an unscheduled gearbox change.
OST
Driver standings
Team standings
Pos
Driver
Points
Team
Points
1
L. Hamilton
169
Mercedes
328
2
N. Rosberg
159
Ferrari
192
3
S. Vettel
120
Williams
129
4
K. Raikkonen
72
Red Bull
55
5
V. Bottas
67
Force India
31
6
F. Massa
62
Lotus
29
7
D. Ricciardo
36
Sauber
21
8
D. Kvyat
19
Toro Rosso
19
9
N. Hulkenberg
18
McLaren
4
10
R. Grosjean
17
Marussia
0
11
F. Nasr
16
12
S. Perez
13
13
P. Maldonado
12
14
M. Verstappen
10
15
C. Sainz
9
16
M. Ericsson
5
17
J. Button
4
18
F. Alonso
0
19
R. Merhi
0
20
W. Stevens
0