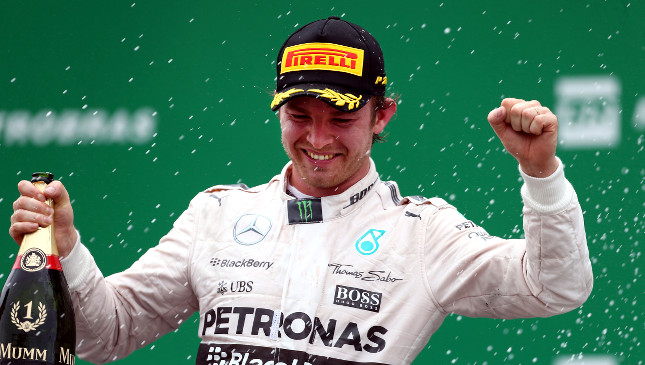 Nico Rosberg's fifth win this season really gets us thinking that if he'd only managed such performances earlier this year, watching the Brazilian Grand Prix would've been much more worth missing out on precious sleep.
The German driver--now officially the runner-up in the 2015 drivers' championship--held his nerve as Lewis Hamilton tried to intimidate him yet again going into the first corner at the start of the race. From there, he converted a three-stop strategy and held off occasional challenges from his teammate to seal his second consecutive victory by a margin of just under eight seconds.
Hamilton came agonizingly close to Rosberg several times, but complained that "it's impossible to follow at this track." His team denied his request to put him on a different strategy that would allow him to challenge for the win. Sebastian Vettel, meanwhile, ran a slightly different three-stop plan, taking on the option rubber during his second tire change as opposed to Merc's choice of prime boots for both its runners. It didn't help him make up ground to the two Silver Arrows ahead, so the only overtaking he did was on backmarkers.
Lonelier still was Kimi Raikkonen, who two-stopped his way to another finish behind his teammate. His old pal Valtteri Bottas, starting from P7 after having been handed a three-place grid penalty for overtaking under red-flag conditions, was too far back to tangle with him for what would have been the third race running.
Continue reading below ↓
Recommended Videos
The midfield was a much livelier place, with pit undercuts and overtakes leading to changes in position throughout the 71 laps of the race. The most spectacular passes came from Max Verstappen, whose masterful driving around the outside of the Senna S allowed him to get ahead of more experienced rivals. If we may offer a suggestion, somebody ought to show footage of his overtakes to Pastor Maldonado, who incurred a five-second time penalty for making contact with Marcus Ericsson at the same spot.
The Venezuelan still got elevated to P10 when P8 finisher Felipe Massa was disqualified because his right-rear tire was found to deviate from the required temperature and pressure. Another notable absence from the top 10 was Daniel Ricciardo, who crossed the line in 12th (and was effectively classified 11th after Massa's disqualification) after having started from P19. The only retiree from the race was Toro Rosso's Carlos Sainz due to an electrical issue.
Clippings from the Brazilian Grand Prix
* Fastest lap: L. Hamilton, 1:14.832 (Lap 51).
* Team radio talk: "Okay, Nico, Lewis is trying quite hard," warned the Mercedes pit wall as Hamilton closed to within a second of his teammate. It was a bit of a scare, but Rosberg kept his cool and the lead.
* Stat attack: While Rosberg became the first driver in 10 years to take back-to-back wins in Brazil, Hamilton has yet to taste victory at Interlagos in nine attempts.
* Official hashtag: After Fernando Alonso's McLaren broke down yet again in qualifying, he had to spend some time lounging in a chair trackside before he could return to the paddock during a gap in the sessions. Cue Photoshop experts taking that image and making all sorts of edits. It spawned the hashtag #PlacesAlonsoWouldRatherBe, and it's damn hilarious.
* Pirelli tire stats: The top three did three-stop races, but a number of other drivers benefitted from running two-stop strategies, too.
#BrazilGP: wide variety of strategy options at work, with a mixture of 2 and 3 stops. Read them all here pic.twitter.com/NaNYFK58mE

— Pirelli Motorsport (@pirellisport) November 15, 2015
* Quote of the race: Commenting on his team's decision not to split his and Hamilton's strategies, Rosberg said: "Our internal battle needs to be man against man, especially when there are no other competitors. It needs to be us two, and removing the luck aspect. That's how it was [in Brazil], and the better guy won. There is too much luck that comes into it [when drivers make the call]. For example, we thought a two-stop was the way to go, and actually, a three-stop was quicker. So if I had gone for two stops and Lewis had gone for three, even though I was quicker, he would win the race. That's not fair."
Photos from Mercedes AMG Petronas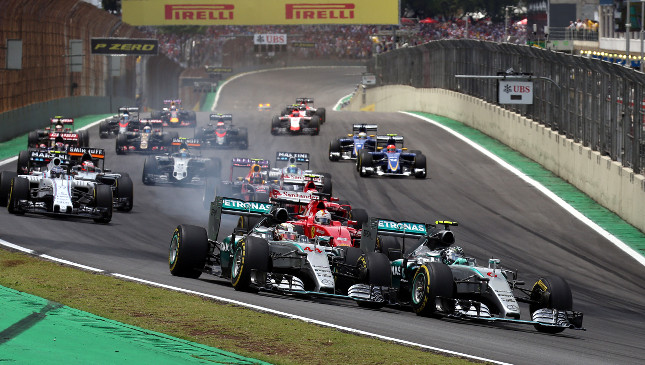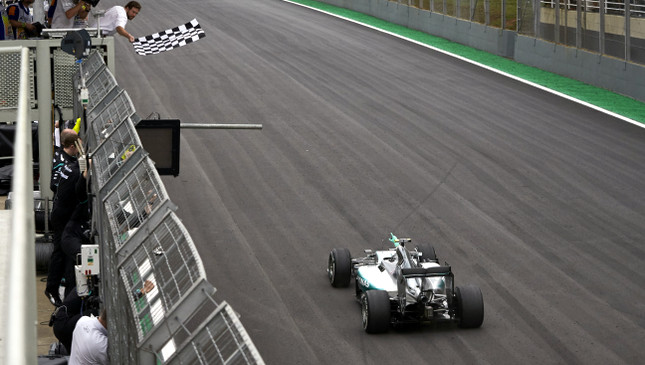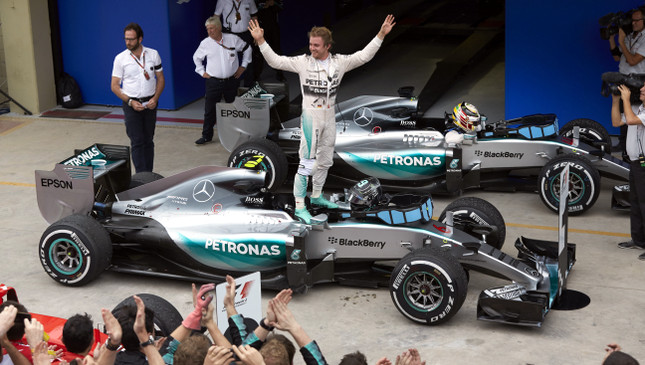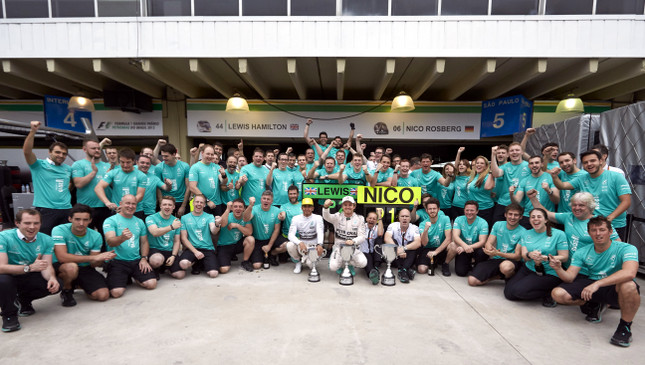 Brazilian Grand Prix race results
Finishing position
Driver
Starting position
Time/Gap
1
N. Rosberg (Mercdes)
1
1hr 31:09.090
2
L. Hamilton (Mercedes)
2
+7.756
3
S. Vettel (Ferrari)
3
+14.244
4
K. Raikkonen (Ferrari)
4
+47.543
5
V. Bottas (Williams)*
7
+1 lap
6
N. Hulkenberg (Force India)
5
+1 lap
7
D. Kvyat (Red Bull)
6
+1 lap
8
R. Grosjean (Lotus)
14
+1 lap
9
M. Verstappen (Toro Rosso)
9
+1 lap
10
P. Maldonado (Lotus)
15
+1 lap
11
D. Ricciardo (Red Bull)*
19
+1 lap
12
S. Perez (Force India)
11
+1 lap
13
F. Nasr (Sauber)*
13
+1 lap
14
J. Button (McLaren)
16
+1 lap
15
F. Alonso (McLaren)*
20
+1 lap
16
M. Ericsson (Sauber)
12
+2 laps
17
W. Stevens (Manor Marussia)
18
+4 laps
18
A. Rossi (Manor Marussia)
17
+4 laps
DSQ
F. Massa (Williams)***
8
DNF
C. Sainz (Toro Rosso)**
10/PL
*V. Bottas (Williams) was given a three-place grid penalty for overtaking under red-flag conditions. F. Nasr (Sauber) was given a three-place grid penalty for impeding another driver. D. Ricciardo (Red Bull) and F. Alonso (McLaren) were given a 20-place grid penalty and a 25-place grid penalty, respectively, for using additional power-unit elements.
**C. Sainz (Toro Rosso) failed to make it to his P10 slot for the grid formation, and had to start the race from the pit lane.
***F. Massa (Williams) originally finished P8, but was disqualified due to a technical infringement.
BRA
Driver standings
Team standings
Pos
Driver
Points
Team
Points
1
L. Hamilton
363
Mercedes
660
2
N. Rosberg
297
Ferrari
401
3
S. Vettel
266
Williams
253
4
V. Bottas
136
Red Bull
178
5
K. Raikkonen
135
Force India
120
6
F. Massa
117
Lotus
76
7
D. Kvyat
94
Toro Rosso
67
8
D. Ricciardo
84
Sauber
36
9
S. Perez
68
McLaren
27
10
N. Hulkenberg
52
Manor Marussia
0
11
R. Grosjean
49
12
M. Verstappen
49
13
F. Nasr
27
14
P. Maldonado
27
15
C. Sainz
18
16
J. Button
16
17
F. Alonso
11
18
M. Ericsson
9
19
R. Merhi
0
20
A. Rossi
0
21
W. Stevens
0