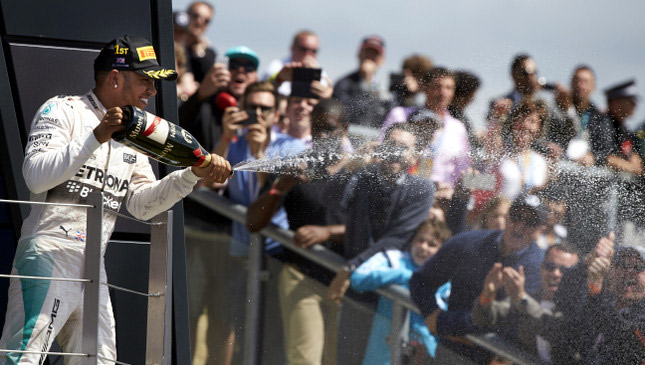 Lewis Hamilton may have won the British Grand Prix, but it took the defending champion a lot more effort as the fickle weather and the much-improved cars of Williams provided him with hefty challenges to overcome. Even Nico Rosberg and Sebastian Vettel, the two other usual podium finishers this season, claimed their positions with a bit of grit and a ton of luck.
The Williams drivers had outqualified both Ferraris on Saturday to lock out the second row, and made lightning starts off the line to shoot in between the Mercs on P1 and P2. Felipe Massa was on the lead well before the first corner; Valtteri Bottas nearly made it a one-two for the Grove-based British team, but Hamilton wrested second place from him.
Behind, a five-car incident involving the two McLarens, the two Lotuses, and the Red Bull of Daniel Ricciardo triggered a safety-car period. Jenson Button, Pastor Maldonado and Romain Grosjean joined the non-starting Felipe Nasr on the casualties list, while Fernando Alonso was able to rejoin the race after pitting for a new nose.
Racing resumed on Lap 4. Hamilton's aggressive efforts to overtake Massa backfired, and he instead lost position to Bottas. It was some laps afterward that Williams made the call to its drivers to hold position, then later gave them the go-ahead to race each other without tangling (see team radio talk below). All this time, the top four runners were covered by around 2sec.
Continue reading below ↓
Recommended Videos
First into the pits on Lap 19 was Hamilton, followed by Massa and Rosberg one lap later. The Brit was able to make the undercut work, taking the lead when Bottas pitted on Lap 21. Unfortunately for Rosberg, the undercut on Bottas didn't quite benefit him; he remained fourth behind his teammate and the two Williams drivers.
Radio calls indicating the threat of rain started halfway through the race, and the first drops fell soon after the virtual safety car had been deployed on Lap 34 for Carlos Sainz's stalled Toro Rosso (teammate Max Verstappen had already retired after the first safety-car period). Kimi Raikkonen's switch to intermediate tires on Lap 38 proved premature; some drivers on dry tires were actually making good progress at this point, with Rosberg passing Bottas and Massa, and Vettel catching up to the Williams duo. Raikkonen thus dropped from P5 to P8, where he eventually finished.
Lap 43 turned out to be the best time to put on the inters. Hamilton pitted then and effectively halted Rosberg's charge for the lead. Vettel, who had run as low as P9 in the early stages, also switched to inters on the same lap. He had been running fifth when he came into the pits, but after Rosberg, Massa and Bottas had their tire changes on Lap 44, the Ferrari driver was in P3 ahead of the two Williams drivers.
In the end, Massa finished in P4. Bottas was just able to defend P5 from Daniil Kvyat, whose Red Bull was a better-handling car in the wet. Nico Hulkenberg and Sergio Perez made it a double points finish for the B-spec Force India with P7 and P9, respectively, and Alonso took home his first point of the season with P10. Marcus Ericsson and the Manor Marussias of Roberto Merhi and Will Stevens rounded out the list of 13 finishers.
So, rain dance for the Hungarian GP, anyone?
Clippings from the British GP
* Fastest lap: L. Hamilton, 1:37.093 (Lap 29)
* Team radio talk: Following are the radio transmissions between Williams and its drivers, who, at that point, were leading the race.
"Okay, Felipe, this is good," the team told Massa after the safety-car period. "We are not racing with your teammate--let's pull away together. We need to pull away together from the Mercs." Valtteri Bottas got a similar message: "Instruction: No racing your teammate for now."
"I have more pace," Bottas objected. He made another appeal about a lap later: "Can I overtake? I can do it on the back straight. Tell me."
"Yes, you can," came the reply.
"That was too late."
"It has to be a very clean move, and you need to pull away when you are in front. Clean move."
* Celebrity moment: Three former Spice Girls were spotted, and George Lucas's presence at the Mercedes garage might have ensured that the Force was with the squad.
* One step forward: Fernando Alonso conceded that he got lucky with his first point of 2015.
Race with many retirements today that helped us to score first point! Small joy today, tomorrow back to work! 💪💪 pic.twitter.com/5QoJK5RyQ5

— Fernando Alonso (@alo_oficial) July 5, 2015
* Stat attack: Apart from claiming his 38th, Hamilton has now also led the most consecutive races at 18, breaking Sir Jackie Stewart's 45-year-old record.
* Top tweet: Hamilton was so happy about winning his home race that he got a bit SHOUTY in his celebrations.
GUYS!!! What an amazing RACE!! Thank you all for the incredible support, you all are amazing. IT'S GOOD TO BE HOME!!! pic.twitter.com/oB3fuDtUI9

— Lewis Hamilton (@LewisHamilton) July 5, 2015
* Pirelli tire stats: More stops than expected because of the rain.
Tyre strategy was key for @MercedesAMGF1. See all the strategies here. Can you count the pit-stops during #BritishGP? pic.twitter.com/qYvlntUzyx

— Pirelli Motorsport (@pirellisport) July 5, 2015
* Quote of the race: Going back to the Williams team-orders issue, Massa insisted he made the right choice in not yielding to his teammate, "because with the hard tires I was quicker, so it was definitely not the right thing to do. He was on the DRS. With DRS, it was much easier for him to follow me on the long straights. So definitely, if we both had no DRS, maybe he would have had similar pace. But on the hard tires, I was quicker."
Photos from Mercedes AMG Petronas, Williams Martini Racing, and Scuderia Ferrari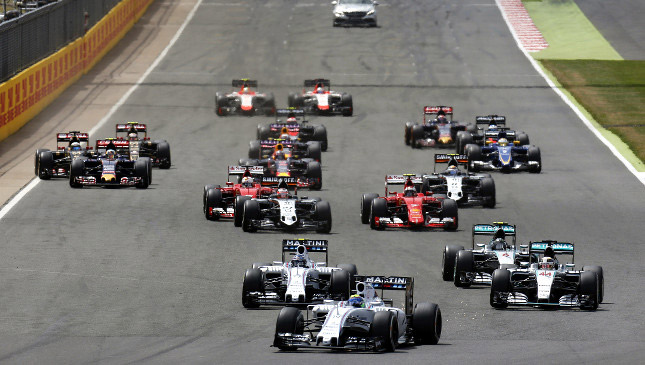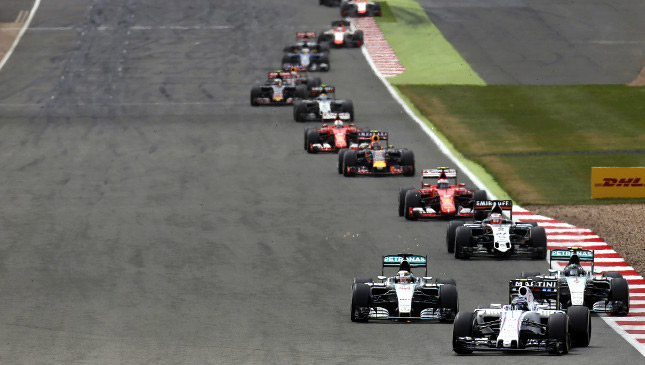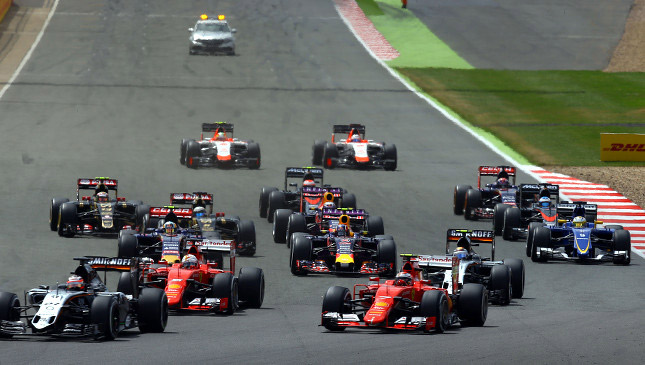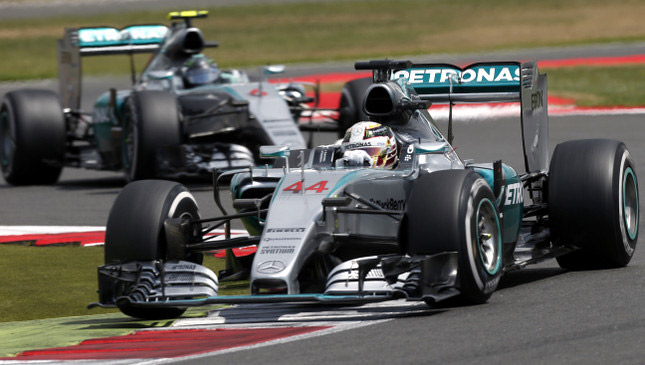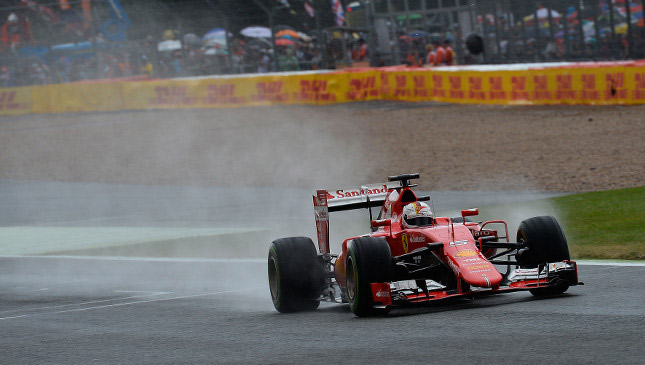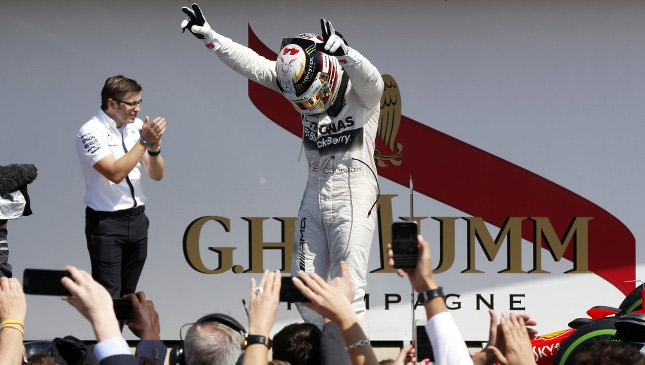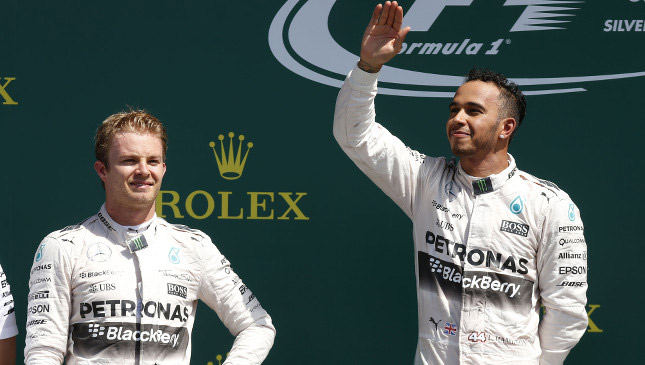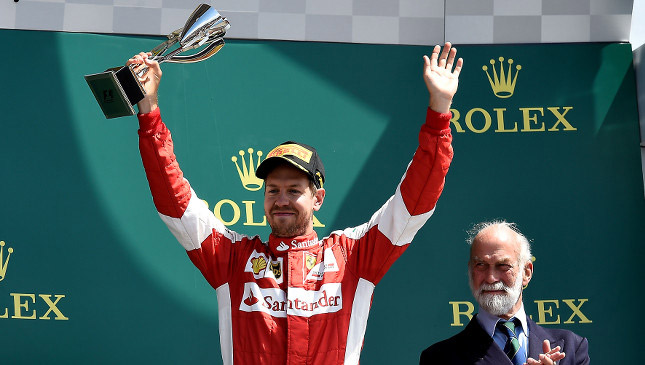 British Grand Prix race results
Finishing position
Driver
Starting position
Time/Gap
1
L. Hamilton (Mercedes)
1
1hr 31:27.729
2
N. Rosberg (Mercedes)
2
+10.956
3
S. Vettel (Ferrari)
6
+25.443
4
F. Massa (Williams)
3
+36.839
5
V. Bottas (Williams)
4
+1:03.194
6
D. Kvyat (Red Bull)
7
+1:03.955
7
N. Hulkenberg (Force India)
9
+1:18.744
8
K. Raikkonen (Ferrari)
5
+1 lap
9
S. Perez (Force India)
11
+1 lap
10
F. Alonso (McLaren)
17
+1 lap
11
M. Ericsson (Sauber)
15
+1 lap
12
R. Merhi (Marussia)
20
+3 laps
13
W. Stevens (Marussia)
19
+3 laps
DNF
C. Sainz (Toro Rosso)
8
DNF
D. Ricciardo (Red Bull)
10
DNF
M. Verstappen (Toro Rosso)
13
DNF
R. Grosjean (Lotus)
12
DNF
P. Maldonado (Lotus)
14
DNF
J. Button (McLaren)
18
DNS
F. Nasr (Sauber)
16
BRI
Driver standings
Team standings
Pos
Driver
Points
Team
Points
1
L. Hamilton
194
Mercedes
371
2
N. Rosberg
177
Ferrari
211
3
S. Vettel
135
Williams
151
4
V. Bottas
77
Red Bull
63
5
K. Raikkonen
76
Force India
39
6
F. Massa
74
Lotus
29
7
D. Ricciardo
36
Sauber
21
8
D. Kvyat
27
Toro Rosso
19
9
N. Hulkenberg
24
McLaren
5
10
R. Grosjean
17
Marussia
0
11
F. Nasr
16
12
S. Perez
15
13
P. Maldonado
12
14
M. Verstappen
10
15
C. Sainz
9
16
M. Ericsson
5
17
J. Button
4
18
F. Alonso
1
19
R. Merhi
0
20
W. Stevens
0