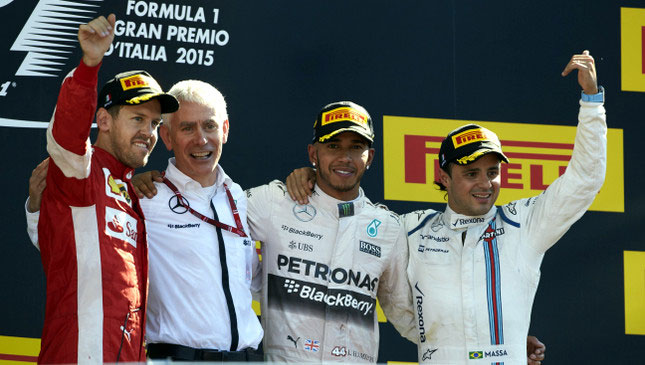 Ciao a tutti! This last round in Italy was, at best, uneventful, but it happened to feature three noteworthy events, the last of which didn't even become fully apparent until after the race. Let's go over them one by one.
The first ruckus happened right at the start--or rather, the non-start for Kimi Raikkonen, when the anti-stall of his Ferrari went: "Eh, but Monza does not have enough chicanes; I make this car and driver into another one!" If you thought you heard a collective cry of outrage echoing from somewhere far away around 8pm last night, that was the reaction of the tifosi as they watched the Finn go from P2 to P20 before he'd moved 20m.
Nico Rosberg, starting from P4, was the luckless victim of this mishap. By the time he cleared Variante Raikkonen, he'd been beaten by Sebastian Vettel, Felipe Massa and Valtteri Bottas as Lewis Hamilton's closest pursuers. Not that Hamilton had any intention of being closely pursued--he was 5.4 seconds ahead of Vettel by Lap 10.
ADVERTISEMENT - CONTINUE READING BELOW ↓
And then it was a snore afterward. Raikkonen got to P9 after just five laps, but he failed to make further progress until Lap 18. Rosberg, pitting on Lap 19 for prime tires, undercut both Williams drivers, and found Vettel less than five seconds up the road when the latter emerged from his pit stop on Lap 26. The midfield was a blur of activity, with Jenson Button also doing his best impression of a chicane--albeit a reasonably quick-moving one--on those lining him up for a pass.
Given that Hamilton was halfway to Singapore, the main battle in the closing stages was Vettel versus Rosberg for P2, and it was definitely game on by Lap 50, with the gap nearly down to DRS range. This, of course, was when the second disaster struck for Rosberg in the form of an engine failure. On Saturday, the German had changed back to an older-spec Mercedes power unit that had already done five races, because his upgraded power unit for Italy showed some issues. A sixth race was apparently too much even for almighty Merc propulsion.
ADVERTISEMENT - CONTINUE READING BELOW ↓
Recommended Videos
Vettel thus crossed the line unchallenged behind Hamilton, followed by Massa, Bottas, Raikkonen, and Force India's Sergio Perez and Nico Hulkenberg. Sauber's Marcus Ericsson took P9 in between Red Bull drivers Daniel Ricciardo and Daniil Kvyat, who'd started from P19 and P18, respectively. The two Toro Rossos, Felipe Nasr in the other Sauber, Button, and the two Manor Marussias completed the finishers, while Fernando Alonso and the two Lotuses kept Rosberg company on the DNF list.
But as the tifosi invaded the podium ceremony, it turned out the results weren't final yet: Hamilton was under investigation for starting the race on a left-rear tire that was 0.3psi below Pirelli's prescribed pressure. We got a hint of the problem when he was suddenly instructed to eke out a bigger gap to Vettel--in anticipation of a post-race time penalty--with a handful of laps to go. What's more, Rosberg's left-rear tire was also found to have been under-inflated by 1.1psi. The mood was, well, deflated at Mercedes, whose engineers were summoned by the stewards.
ADVERTISEMENT - CONTINUE READING BELOW ↓
The decision (which took longer to reach than the one hour and 18 minutes that Hamilton needed to clinch his 40th career win) was as follows:
Having heard from the Technical Delegate, the Team Representatives and the Pirelli Team Tire Engineer, the Stewards have determined that the pressure in the tires concerned were at the minimum start pressure recommended by Pirelli when they were fitted to the car. In making this determination regarding the pressures, the Stewards noted that the tire-warming blankets had been disconnected from their power source, as is normal procedure, and the tires were significantly below the maximum permitted tire blanket temperature at the time of the FIA's measurement on the grid, and at significantly different temperatures from other cars measured on the grid. Further, the Stewards are satisfied that the team followed the currently specified procedure, supervised by the Tire Manufacturer, for the safe operation of the tires. Therefore the Stewards decide to take no further action. Nevertheless, the Stewards recommend that the Tire Manufacturer and the FIA hold further meetings to provide clear guidance to the teams on measurement protocols.
ADVERTISEMENT - CONTINUE READING BELOW ↓
Mercedes-Benz head of motorsport Toto Wolff likewise stressed the need to clarify the rules. "We followed the procedure which was established with Pirelli: Have the tires in the blanket and check the pressures with Pirelli," he said. "So there is always a Pirelli guy with us, and the pressure was well above the minimum--because safety is important for us! We put those tires on the car, and for whatever reason--maybe one of the tires cooled down--a different pressure was found on one of the tires. A very tiny discrepancy! I have no idea what happened then--whether [the tire blanket] was not working or if it was detached. The question is all about the procedure: When do you measure?"
So Hamilton's victory stands, and he extends his championship lead to 53 points. Will his form and luck hold for the rest of the season? We'll find out in two weeks. See you in Singapore.
ADVERTISEMENT - CONTINUE READING BELOW ↓
Clippings from the Italian Grand Prix
* Fastest lap: L. Hamilton, 1:26.672 (Lap 48)
* Team radio talk: Not the kind of message Lewis Hamilton wanted to hear in the final laps: "We need to pull a gap. Don't ask questions--just execute." He did as instructed and finished ahead of Sebastian Vettel by 25.042 seconds--just enough to stay ahead in case he was given a 25-second time penalty (equivalent to a drive-through) for his supposed tire-pressure infringement.
* Celebrity moment: After the race, George Lucas got on the podium to speak with the top three finishers. The interview made about as much sense as Jar Jar Binks.
* Stat attack: Hamilton's 40th career victory also gave him his second career grand slam--pole, victory, fastest lap, and entire race led. He is one win away from equaling Vettel and Ayrton Senna, who share third place on the all-time win list.
* Top tweet: Michelin, which has submitted a bid to supply tires for F1 from 2017, put out this tweet while the world was waiting for the stewards' decision on the latest tire saga. Coincidence? We think not.
ADVERTISEMENT - CONTINUE READING BELOW ↓
Check your pressure: http://t.co/D2fG4oZIqP

— Michelin (@MichelinTyres) September 6, 2015
* Pirelli tire stats: It was a routine one-stop race for the majority of the drivers.
Check out our #F1 #ItalianGP Pit Stop Strategy Infographic! pic.twitter.com/grkkUMhqIe

— Pirelli Motorsport (@pirellisport) September 6, 2015
* Now that's a photo op: Shell, which has enjoyed a close working relationship with Ferrari since the '30s, celebrated becoming the Scuderia's Innovation Partner for the next five years by taking these awesome photos on the legendary Monza banking.
Magic of Monza @Shellmotorsport #ItalianGP #reseason pic.twitter.com/DCYWQ7SRus

— ShellMotorsportTeam (@ShellMotorsport) September 6, 2015
* Quote of the race: Vettel cemented his status as the latest tifosi darling by stating why Monza should have its contract extended beyond 2016. "If we take this away from the calendar for any shitty money reasons, I think you are basically ripping our hearts out. We are here, we are racing, and this makes it so much more worthwhile. It's what we're here for. You stand on the grid, you look to the left, you look to the right, people are just happy to be part of it and it makes our day."
ADVERTISEMENT - CONTINUE READING BELOW ↓
Photos from Mercedes AMG Petronas, Scuderia Ferrari and Williams Martini Racing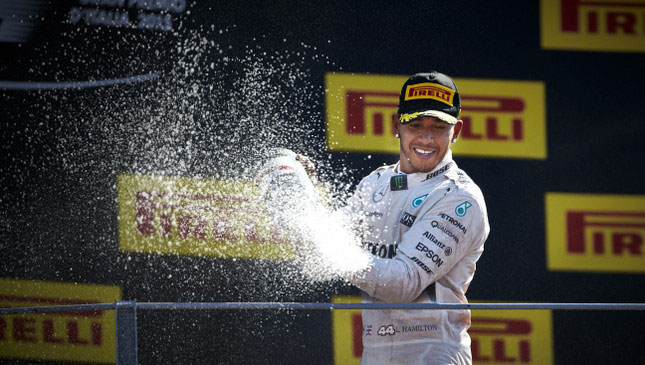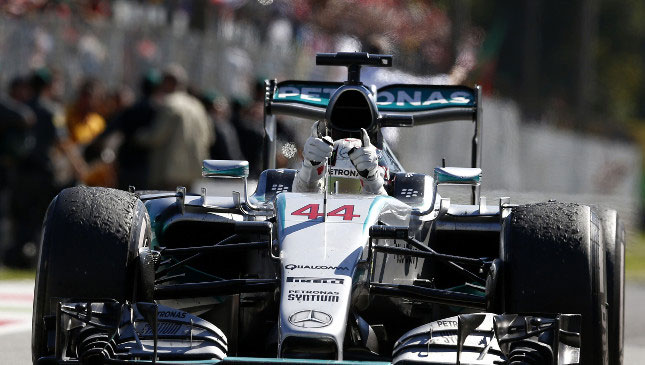 ADVERTISEMENT - CONTINUE READING BELOW ↓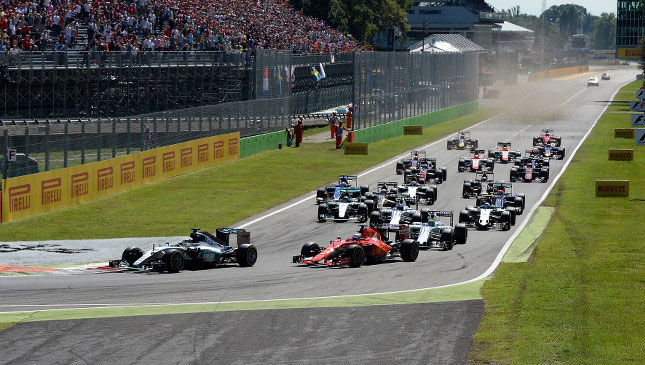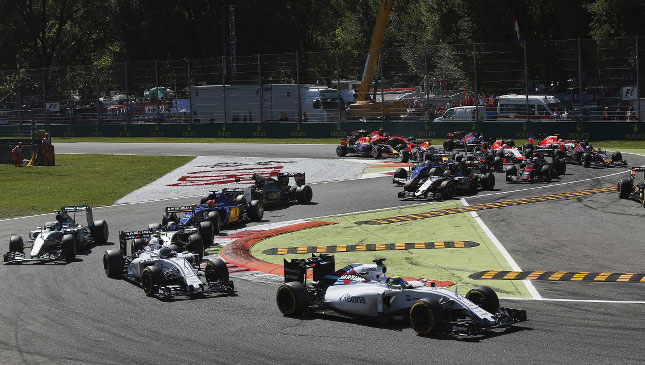 ADVERTISEMENT - CONTINUE READING BELOW ↓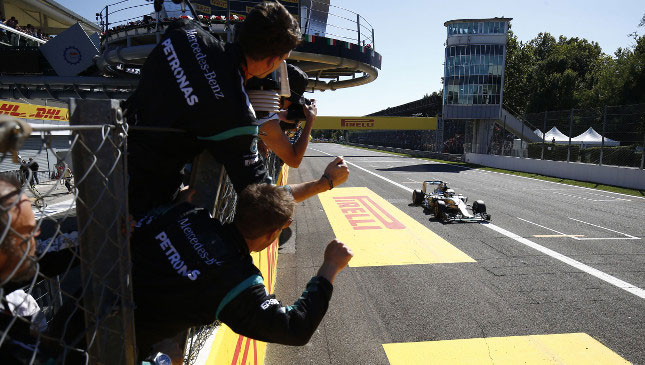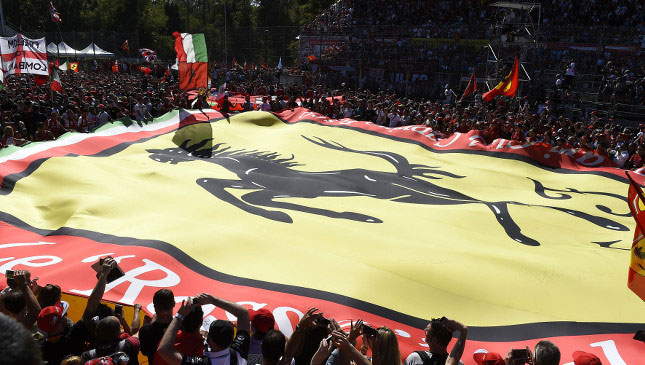 ADVERTISEMENT - CONTINUE READING BELOW ↓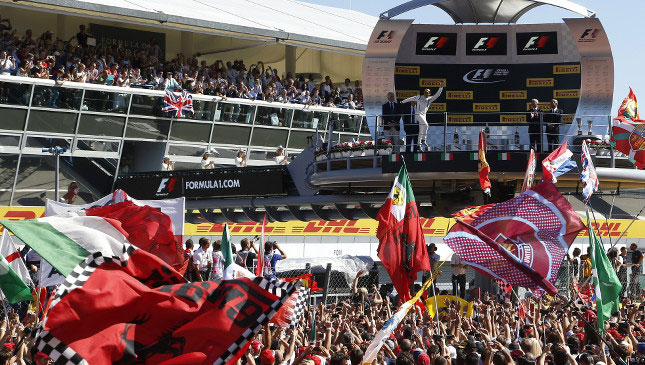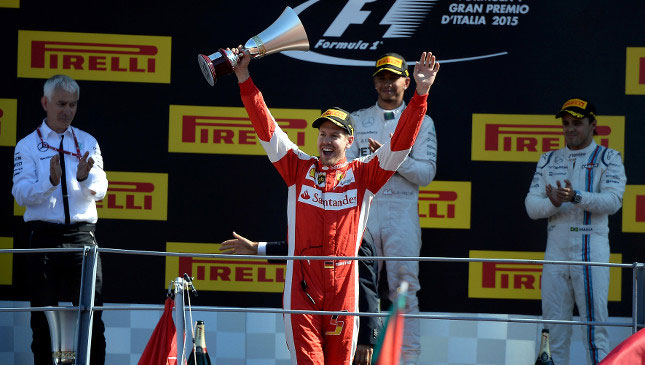 ADVERTISEMENT - CONTINUE READING BELOW ↓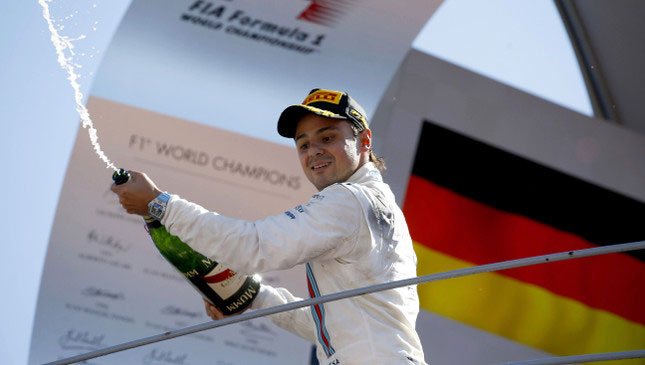 Italian Grand Prix race results
Finishing position
Driver
Starting position
Time/Gap
1
L. Hamilton (Mercedes)
1
1hr 18:00.688
2
S. Vettel (Ferrari)
3
+25.042
3
F. Massa (Williams)
5
+47.635
4
V. Bottas (Williams)
6
+47.996
5
K. Raikkonen (Ferrari)
2
+1:08.860
6
S. Perez (Force India)
7
+1:12.783
7
N. Hulkenberg (Force India)
9
+1 lap
8
D. Ricciardo (Red Bull)*
19
+1 lap
9
M. Ericsson (Sauber)*
12
+1 lap
10
D. Kvyat (Red Bull)*
18
+1 lap
11
C. Sainz (Toro Rosso)*
17
+1 lap
12
M. Verstappen (Toro Rosso)*
20
+1 lap
13
F. Nasr (Sauber)
11
+1 lap
14
J. Button (McLaren)*
15
+1 lap
15
W. Stevens (Marussia)
13
+2 laps
16
R. Merhi (Marussia)
14
+2 laps
DNF
N. Rosberg (Mercedes)
4
DNF
F. Alonso (McLaren)*
16
DNF
R. Grosjean (Lotus)
8
DNF
P. Maldonado (Lotus)
10
*Grid-place penalties were applied to the qualifying results of the following drivers. For the complete details of the penalties, click here.
ITA
Driver standings
Team standings
Pos
Driver
Points
Team
Points
1
L. Hamilton
252
Mercedes
451
2
N. Rosberg
199
Ferrari
270
3
S. Vettel
178
Williams
188
4
F. Massa
97
Red Bull
113
5
K. Raikkonen
92
Force India
63
6
V. Bottas
91
Lotus
50
7
D. Kvyat
58
Toro Rosso
35
8
D. Ricciardo
55
Sauber
25
9
R. Grosjean
38
McLaren
17
10
S. Perez
33
Marussia
0
11
N. Hulkenberg
30
12
M. Verstappen
26
13
F. Nasr
16
14
P. Maldonado
12
15
F. Alonso
11
16
C. Sainz
9
17
M. Ericsson
9
18
J. Button
6
19
R. Merhi
0
20
W. Stevens
0