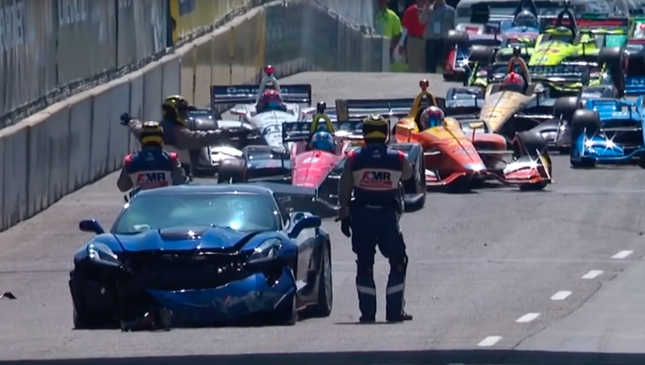 Driving a motorsport event pace car is like being a football referee, or a special ops secret agent. Because it's one of those jobs that's very important, and yet no one ever tends to notice when you're doing it well. All that changes when you mess it up. Then, it's a big deal.
Enter General Motors product development chief Mark Reuss. A gentleman Top Gear likes for his excellent choice in badass Chevrolet Corvette nicknames. When the 650hp Corvette Z06 debuted in 2015, Reuss christened it 'The Big Nasty'.
When it was superseded by the ultimate C7-generation 'Vette, the ZR1, Reuss had another codename to share: He called the ZR1 'Fury'. How cool's that?
Reuss had the chance to sample the 'Fury' at this weekend's Detroit IndyCar GP, running as the pace car with IndyCar official Mark Sand in the passenger seat. And as you can see, it didn't end too gracefully.
ADVERTISEMENT - CONTINUE READING BELOW ↓
The race start was delayed by 27 minutes to sweep up the mess. Fortunately, both occupants were uninjured, and were checked over at the circuit medical center.
Any new suggestions for Corvette nicknames, off the back of this?
Watch the video below.
NOTE: This article first appeared on TopGear.com. Minor edits have been made.
ADVERTISEMENT - CONTINUE READING BELOW ↓
Recommended Videos