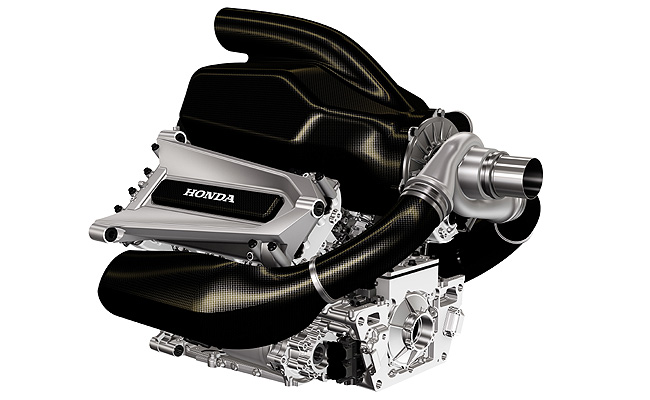 The 2015 Formula 1 season is still a few months away, but Honda has already shown the 1.6-liter turbo V6 engine it will supply the McLaren outfit next year.
"Working toward Honda's F1 participation starting in the 2015 season, development of the power unit is entering its prime phase at our R&D facility in Sakura (Tochigi, Japan), where we transferred our automobile motorsports development earlier this year," said Honda R&D senior managing officer Yasuhisa Arai. "In addition to conducting simulations, we have moved on to the next stage where we conduct full-fledged bench tests of the engine while connecting the turbocharger and energy recovery systems. In the meantime, our racing operation base in Milton Keynes, United Kingdom, has become fully operational. At this time, we are unveiling an image of our power unit that is under development. The whole team is concentrating on this development, getting ready for the forthcoming start of F1 participation in six months. Please stay tuned for further updates."
As the McLaren-Honda partnership reunites after 23 years, how do you think the team will fare next season? After all, the current 2014 season has been McLaren's worst since 1981, when it finished in sixth place.
Continue reading below ↓
Recommended Videos