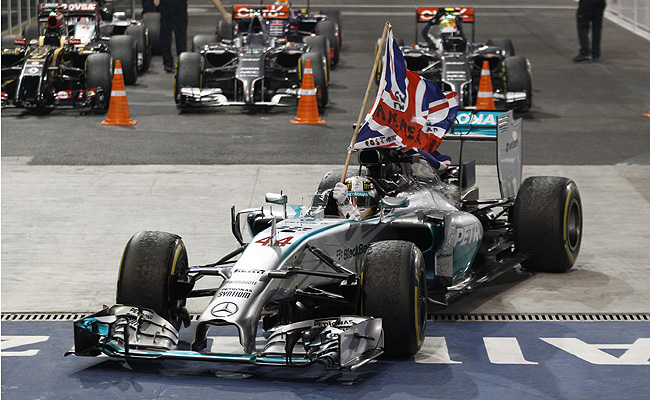 Six years after winning his first Formula 1 drivers' title with McLaren, Mercedes AMG Petronas driver Lewis Hamilton claimed the title for the second time as he took advantage of teammate and championship rival Nico Rosberg's poor start from pole position (and eventual retirement) at the season-ending 2014 Abu Dhabi Grand Prix yesterday.
Lying in P2 on the starting grid, Hamilton quickly took the lead from Rosberg and controlled the race all the way to the checkered flag to claim both the race win and the championship. An issue with his kinetic energy recovery system ended Rosberg's hope of challenging Hamilton as he finished the race in 14th place. For Rosberg to win the title, he had to finish in at least fifth place (with Hamilton retiring).
With the victory practically his, Hamilton eased up later on in the race, allowing Williams driver Felipe Massa to finish just 2.5 seconds behind in second place. Completing the podium was Massa's teammate Valtteri Bottas in third place.
Hamilton's race victory gave Mercedes its 16th win of the season, eclipsing the 15 victories previously set by McLaren in 1988 and Ferrari in 2002 and 2004.
Incidentally, Williams's two podium finishes gave the team third place in the constructors' championship, its most successful finish after the 2003 season, in which the team placed second overall.
Continue reading below ↓
Recommended Videos
Defeated Nico Rosberg walked up to his childhood friend after the race to congratulate the new champion. The two had spent the entire season jostling on and off the track.