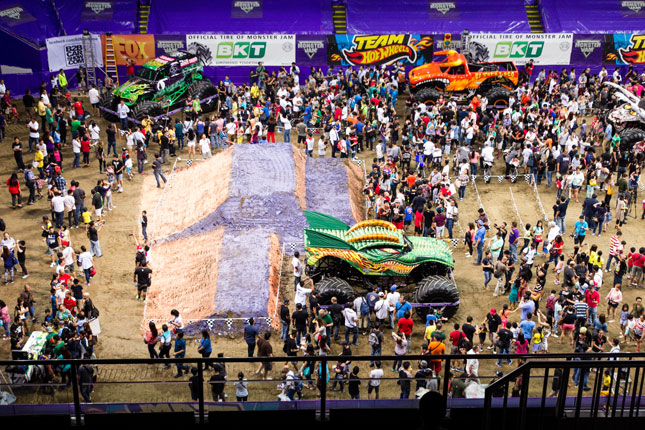 At the recently concluded Monster Jam event, we finally witnessed what monster trucks are all about. Most of us on the team were able to attend, and none of us left the Mall of Asia Arena without a beaming smile.
Yes, it seemed the venue was a bit small for the massive vehicles jumping around. But after we saw the first truck leap into the air--looking like an oversized scale-model remote-controlled toy--we whooped in delight because we were children again.
Speaking of kids, despite the violent concept of gargantuan custom-built trucks leaping and jumping, this was a very family-oriented event. We had passes to the pit party prior to the event, where the trucks and their respective drivers just posed for photos and signed autographs. The atmosphere was like a kiddie party at McDonald's, and children eagerly asked for signatures and took photos with the drivers.
One interesting aspect was the lack of scantily clad models. There were perhaps two or three pretty girls brought in by a local events organizer, but none of the teams relied on curvaceous women to attract crowds. It's quite refreshing, actually, to not see so-called photographers milling about the babes and ignoring the cars.
Continue reading below ↓
Recommended Videos
If you missed last weekend's Monster Jam, or if you just want to relive the fun memories, here are some highlights of the unforgettable occasion. We won't soon forget seeing Zombie's hands flailing, Dragon's fire-breathing, El Toro Loco's snorting, Max D's car-crushing rampage, Son-Uva Digger's hopping, and the legendary Grave Digger's reverse-jumping.
If you're looking for the thrilling freestyle motocross segment, we'll be uploading another gallery on that, too. And to those complaining that the event venue was too cramped, you just have to make room in your heart for the sense of wonder to appreciate something like this.
Photos by Mark Jesalva