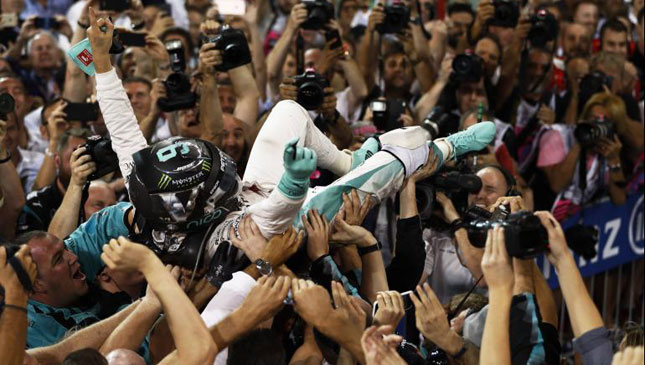 They say it's lonely once you reach the top. If that's the case, then it looks like 2016 Formula 1 world champion Nico Rosberg won't be standing on his own for very long.
In a shocking announcement, Rosberg has just announced that he is retiring from racing. This comes just less than a week after he clinched the title at the final 2016 F1 race in Abu Dhabi as part of the Mercedes team.
"Since 25 years in racing, it has been my dream, my 'one thing' to become Formula 1 world champion," Rosberg said in a Facebook post. "Through the hard work, the pain, the sacrifices, this has been my target. And now I've made it. I have climbed my mountain, I am on the peak, so this feels right. My strongest emotion right now is deep gratitude to everybody who supported me to make that dream happen."
The German driver cited mounting pressures as his reason for calling it quits: "When I won the race in Suzuka, from the moment when the destiny of the title was in my own hands, the big pressure started and I began to think about ending my racing career if I became world champion. On Sunday morning in Abu Dhabi, I knew that it could be my last race and that feeling cleared my head before the start. I wanted to enjoy every part of the experience, knowing it might be the last time… and then the lights went out and I had the most intense 55 laps of my life. I took my decision on Monday evening. After reflecting for a day, the first people I told were Vivian and Georg (Nolte), followed by Toto."
His familial responsibilities was also a factor: "This season, I tell you, it was so damn tough. I pushed like crazy in every area after the disappointments of the last two years; they fueled my motivation to levels I had never experienced before. And of course that had an impact on the ones I love, too—it was a whole family effort of sacrifice, putting everything behind our target."
At just 31 years old, Rosberg's decision will no doubt send shockwaves throughout the motorsports world. What do you guys think about his sudden decision to call it a day?