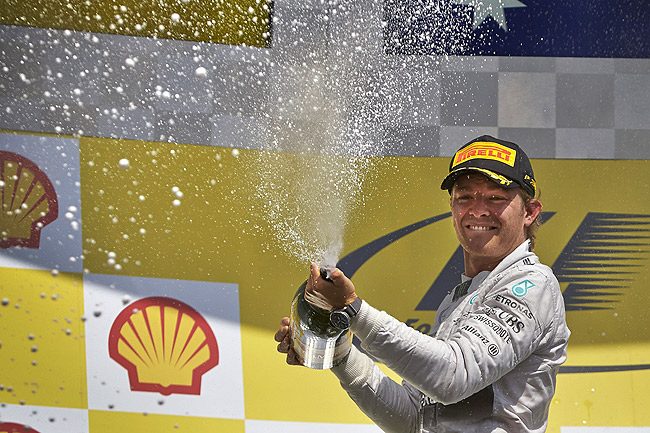 After the three-week summer break, Formula 1 is back. And man, what an entertaining race the Belgian Grand Prix was!
The tension between the Merc boys is increasing with each round, and may it continue to do so. We say, let them race! It's good for the sport, it's good for the championship, and most of all, it's good for the fans.
At Spa, there were a few surprises. With the wheel-to-wheel action between the two Silver Arrows and the incidents that come with it, that smiley chap (aka the honey badger) is capitalizing on the opportunities.
It was a crackin' race for the fans...
What do you get when you have the best car on the grid and two drivers fighting for the world championship? A recipe for disaster for that team and an exciting race for the fans.
It reminds us of the Senna-Prost battle as McLaren teammates in 1988 and 1989, with the Frenchman leaving for Ferrari in 1990 because he could no longer work with the Brazilian.
It's a tough scenario, this one we have now. Do you set ground rules--enforcing team orders--or do you allow them to freely race? Frankly, Nico Rosberg and Lewis Hamilton are racing for themselves for the drivers' crown, while Mercedes is itching to bag the constructors' championship.
Continue reading below ↓
Recommended Videos
There's always going to be the likelihood of a clash, particularly when the two drivers lock out the front row. It's pretty clear the collision was Rosberg's fault, having backed off too late from his passing attempt on Lewis on just the second lap. It was nothing more than a racing incident. That's racing. These guys race hard, and even if the move won't stick, they will either go for the gap or push their teammate to give even just a bit of space.
Nico knows this is his best shot at the championship yet. Despite front-wing damage, he drove a hard race to collect another 18 points.
Would Lewis fans still be booing had the incident been the other way around? Folks, the wheel-to-wheel racing and the tight championship battle between teammates are the reasons we're glued to the TV.
And we should feel so lucky to have colorful characters like Eddie Jordan and Niki Lauda. For Lauda, we simply love the way he thinks and the clinical responses he gives. And what about that podium interview? Jordan asked the right questions, and we tip our hats off for his quick thinking in pacifying the crowd.
...but somewhat disappointing at the same time.
The disappointment of Lewis and his fans was completely understandable since the nudge from Rosberg ruined his race, but such incidents are part and parcel of racing, especially when the championship battle is so close. Again, it could have gone either way.
The biggest letdown here was when Lewis was begging his race engineer to let him retire as he was in 16th place. He's paid £20 million ($32.6 million) a year to drive a Formula 1 car, and theirs is the best in the field. At least try. And Lewis, can you please get your emotions together and stop saying Nico is deliberately doing it?
Another stellar result from Daniel Ricciardo...
Before the season started, everyone was talking about Daniel Ricciardo's qualifying strength, saying he could give Sebastian Vettel a run for his money. No one ever mentioned his racecraft, and he has been pleasantly surprising.
It became obvious what he's capable of--racing closely with the likes of Fernando Alonso and Hamilton, and even trouncing his four-time world champion teammate more often than not. Yes, pleasantly surprising. Don't let that smile fool you. Daniel is determined, and seemingly without trying too hard. He has collected his third win of the season, just one fewer than Rosberg. He is now also just 35 points behind Hamilton in the standings.
...and a so-so one from Vettel.
Ricciardo's win in Canada could've been a stroke of luck, his win in Hungary another, but surely the third got Vettel thinking, "WTF!" While Sebastian can't stop whining about the 2014 car, Daniel is driving effortlessly and relishing the moment.
We wonder if the team's motorsport adviser, Helmut Marko, is hounding their golden boy.
It was a good day for the Finns...
It was another great drive by Valtteri Bottas, crossing the line in third, his fourth podium in the last five races. This guy's a real talent, leading teammate Felipe Massa yet again. With his string of podium finishes, his Williams team will be keen to hold on to the new flying Finn.
Meanwhile, Kimi Raikkonen scored his best result yet--a fourth place--finishing ahead of Ferrari teammate Fernando Alonso for the first time this year. Like the monotonous Finn said, all he needed was a trouble-free race. His progress from this point will be one to watch.
...and a bad one for a certain Spaniard.
Fernando Alonso's race was screwed from the start, with his mechanics staying past the 15-second period on the grid. He had a terrific start once again, but a five-second penalty meant that a possible podium finish disappeared.
Fernando fought hard with McLaren's Kevin Magnussen, who was pushing the limits of defensive driving. The Dane pushed Alonso off the track twice, who lost out to Sebastian Vettel and Jenson Button, finishing in seventh as a result. At least he still scored points, having done so in every round so far this year.
Magnussen was handed a 20-second penalty, falling from sixth to 12th position.
It was a day to remember for Red Bull Racing and Adrian Newey...
Ricciardo's win gave RBR its 50th win and Newey a total of 150 Grand Prix victories with cars he designed. Before being poached by Red Bull eight years ago, the technical guru had secured 100 wins with Williams and McLaren.
...one to forget for Mercedes (sort of).
They still brought home 18 points care of Rosberg and are 157 points ahead of Red Bull with just seven rounds to go. Mercedes executive directors Paddy Lowe and Toto Wolff can smell the title. However, with their drivers clashing, Red Bull will be there to capitalize whenever Merc stumbles.
Photos from Mercedes AMG Petronas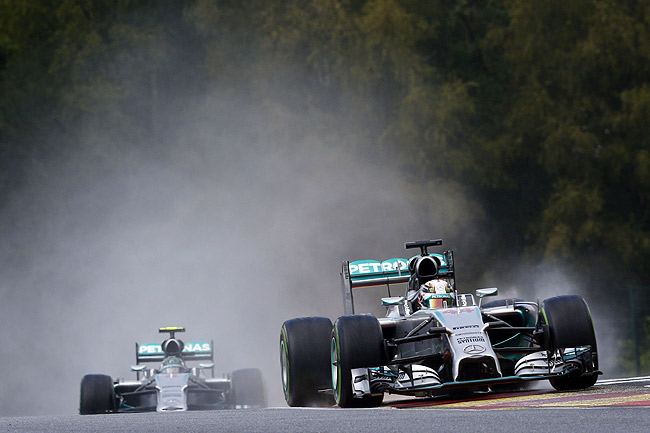 BEL
Starting grid
Race results
Pos
Driver (Team)
Qualifying
Driver (Team)
Time/Gap
1
N. Rosberg (Mercedes)
2:05.591
D. Ricciardo (Red Bull)
1hr 24:36.556
2
L. Hamilton (Mercedes)
2:05.819
N. Rosberg (Mercedes)
+3.383
3
S. Vettel (Red Bull)
2:07.717
V. Bottas (Williams)
+28.032
4
F. Alonso (Ferrari)
2:07.786
K. Raikkonen (Ferrari)
+36.815
5
D. Ricciardo (Red Bull)
2:07.911
S. Vettel (Red Bull)
+52.196
6
V. Bottas (Williams)
2:08.049
J. Button (McLaren)
+54.580
7
K. Magnussen (McLaren)
2:08.679
F. Alonso (Ferrari)
+1:01.162
8
K. Raikkonen (Ferrari)
2:08.780
S. Perez (Force India)
+1:04.293
9
F. Massa (Williams
2:09.178
D. Kvyat (Toro Rosso)
+1:05.347
10
J. Button (McLaren)
2:09.776
N. Hulkenberg (Force India)
+1:05.697
11
D. Kvyat (Toro Rosso)
2:09.377
J. Vergne (Toro Rosso)
+1:11.920
12
J. Vergne (Toro Rosso)
2:09.805
K. Magnussen (McLaren)
+1:14.262
13
S. Perez (Force India)
2:10.084
F. Massa (Williams)
+1:15.975
14
A. Sutil (Sauber)
2:10.238
A. Sutil (Sauber)
+1:22.447
15
R. Grosjean (Lotus)
2:11.087
E. Gutierrez (Sauber)
+1:30.825
16
J. Bianchi (Marussia)
2:12.470
M. Chilton (Marussia)
+1 lap
17
P. Maldonado (Lotus)
2:11.261
M. Ericsson (Caterham)
+1 lap
18
N. Hulkenberg (Force India)
2:11.267
J. Bianchi (Marussia)
did not finish
19
M. Chilton (Marussia)
2:12.566
L. Hamilton (Mercedes)
did not finish
20
E. Gutierrez (Sauber)
2:13.414
R. Grosjean (Lotus)
did not finish
21
A. Lotterer (Caterham)
2:13.469
P. Maldonado (Lotus)
did not finish
22
M. Ericsson (Caterham)
2:14.438
A. Lotterer (Caterham)
did not finish
BEL
Drivers' championship
Constructors' championship
Pos
Driver
Points
Team
Points
1
N. Rosberg
220
Mercedes
411
2
L. Hamilton
191
Red Bull
254
3
D. Ricciardo
156
Ferrari
160
4
F. Alonso
121
Williams
150
5
V. Bottas
110
McLaren
105
6
S. Vettel
98
Force India
103
7
N. Hulkenberg
70
Toro Rosso
19
8
J. Button
68
Lotus
8
9
F. Massa
40
Marussia
2
10
K. Raikkonen
39
Sauber
0
11
K. Magnussen
37
Caterham
0
12
S. Perez
33
13
J. Vergne
11
14
R. Grosjean
8
15
D. Kvyat
8
16
J. Bianchi
2