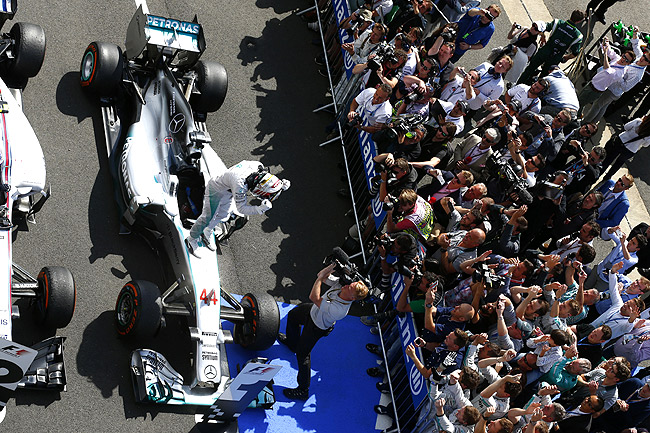 It's round nine of the Formula 1 championship. Do we expect any other team apart from Mercedes to be on top? Er, no. Silverstone is a track that suits those silver cars, so it's difficult to see otherwise. Nico Rosberg won it last year, if that's any indication of the team's performance on this track.
Apart from seeing the Merc boys duke it out for the championship, we want to see other battles.
Luck finally came around for Lewis Hamilton...
Nico Rosberg was once again the more consistent of the Merc duo, and the way he dialed in his qualifying lap was spectacular--it was very calculated. Since Lewis started the mind games, Rosberg has turned it to his favor. It seems like Lewis has pressed the wrong buttons...or the right ones, depending on which driver you're rooting for. In the end, Rosberg's first DNF of the season translates to a win for Hamilton, who is now just four points behind the German.
...while Nico Rosberg has to regroup.
Nico is smart and knows that these things happen. He's also glad to have benefited from that significant gap in the championship standings. But from hereon out, it's pretty even-steven, and Nico has to dig deep once again.
Continue reading below ↓
Recommended Videos
It was a stirring day for Jenson Button...
After being criticized by McLaren boss Ron Dennis for not being quick enough, Button qualified third, the team's highest qualifying result of the season so far. He challenged Daniel Ricciardo for the podium, equaling his best finish at his home grand prix. That podium would've been sweet for JB. At least he had the support of the crowd, who paid tribute to his old man by wearing pink.
...and we didn't hear much from Ron Dennis.
We wonder what he thought of Jenson's performance. Dennis likes to play hardball to get the desired results, which is fair. Button's performance in the coming races is still crucial. After all, contract negotiations are just around the corner.
Yet another grand prix to forget for Felipe Massa...
Massa's 200th start was a race to forget, but through no fault of his own. He was at the right place at the wrong time, having to avoid Kimi Raikkonen's Ferrari on the first lap. It was game over before the restart.
...and a race to remember for Valtteri Bottas.
Fourteenth to second place. Wow. The Finn continues to show he's a star of the future. Heck, he's a star now. This is his second-straight podium and the best finish of his career so far. It puts him 43 points ahead of his more experienced teammate. That's massive. Felipe has to find some answers. Soon.
It was definitely a good day for close racing...
Fernando Alonso and Sebastian Vettel's battle trounces everything else in the British Grand Prix. It has been one of the best tussles in F1 for a very long time. It's a touchy issue because you're either for one or the other.
Alonso and Vettel know exactly what they have to do. Otherwise, they wouldn't have signed up for this. They both have different masters to answer to--Ferrari for the former and Red Bull for the latter.
In Alonso's case, he's paid to defend. In Vettel's, he's supposed to be paid to try and take that position away. Simple, right? Imagine if Alonso gave away his position that easily. What value would that hold for Vettel and, of course, the fans? The Spaniard has his reputation to keep as a hard racer. Any smart driver would defend as hard, so long as it's within the limits. Positions reversed, Vettel fans wouldn't want him to give it away that easily, too.
Unless Seb and his fans are forgetting the words he uttered when his team instructed him to let his faster teammate by in an earlier round this year: "Tough luck. He has to get by me." What makes this scrap, or any other scrap for that matter, different? Vettel isn't going to be granted a Multi 21 scenario with Alonso. Racing isn't a walk in the park; you're supposed to fight and defend. That's what the fans want to see--hard racing and on-the-limit stuff.
...and an edge-of-your-seat moment for the fans.
The fact that we're still talking about that tussle can only mean it was a spectacle we all enjoyed. Everyone wins.
Photos from Mercedes AMG Petronas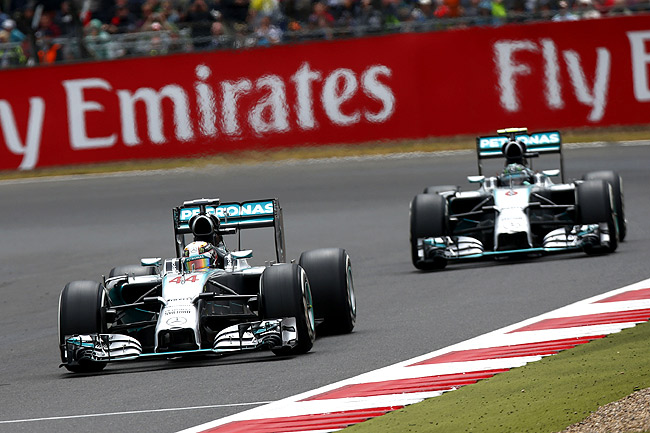 GBR
Starting grid
Race results
Pos
Driver (Team)
Qualifying
Driver (Team)
Time/Gap
1
N. Rosberg (Mercedes)
1:35.766
L. Hamilton (Mercedes)
2hr 26:52.094
2
S. Vettel (Red Bull)
1:37.386
V. Bottas (Williams)
+30.135
3
J. Button (McLaren)
1:38.200
D. Ricciardo (Red Bull)
+46.495
4
N. Hulkenberg (Force India)
1:38.329
J. Button (McLaren)
+47.390
5
K. Magnussen (McLaren)
1:38.417
S. Vettel (Red Bull)
+53.864
6
L. Hamilton (Mercedes)
1:39.232
F. Alonso (Ferrari)
+59.946
7
S. Perez (Force India)
1:40.457
K. Magnussen (McLaren)
+1:02.563
8
D. Ricciardo (Red Bull)
1:40.606
N. Hulkenberg (Force India)
+1:28.692
9
D. Kvyat (Toro Rosso)
1:40.707
D. Kvyat (Toro Rosso)
+1:29.340
10
J. Vergne (Toro Rosso)
1:40.855
J. Vergne (Toro Rosso)
+1 lap
11
R. Grosjean (Lotus)
1:38.496
S. Perez (Force India)
+1 lap
12
J. Bianchi (Marussia)
1:38.709
R. Grosjean (Lotus)
+1 lap
13
A. Sutil (Sauber)
No time
A. Sutil (Sauber)
+1 lap
14
V. Bottas (Williams)
1:45.318
J. Bianchi (Marussia)
+1 lap
15
F. Massa (Williams)
1:45.695
K. Kobayashi (Caterham)
+2 laps
16
F. Alonso (Ferrari)
1:45.935
M. Chilton (Marussia)
+2 laps
17
M. Chilton (Marussia)
1:39.800 (penalty)
P. Maldonado (Lotus)
did not finish
18
K. Raikkonen (Ferrari)
1:46.684
N. Rosberg (Mercedes)
did not finish
19
E. Gutierrez (Sauber)
1:40.912 (penalty)
M. Ericsson (Caterham)
did not finish
20
P. Maldonado (Lotus)
No time
E. Gutierrez (Sauber)
did not finish
21
M. Ericsson (Caterham)
1:49.421
F. Massa (Williams)
did not finish
22
K. Kobayashi (Caterham)
1:49.625
K. Raikkonen (Ferrari)
did not finish
GBR
Drivers' championship
Constructors' championship
Pos
Driver
Points
Team
Points
1
N. Rosberg
165
Mercedes
326
2
L. Hamilton
161

Red Bull



168
3
D. Ricciardo
98

Ferrari




106



4
F. Alonso
87
Williams

103



5
V. Bottas
73
Force India

91



6
S. Vettel
70
McLaren

90



7
N. Hulkenberg
63
Toro Rosso

15



8
J. Button
55
Lotus

8



9
K. Magnussen
35
Marussia
2
10
F. Massa
30
Sauber
0
11
S. Perez
28
Caterham
0
12
K. Raikkonen
19




13
J. Vergne
9
14
R. Grosjean
8
15
D. Kvyat
6
16
J. Bianchi
2
17
A. Sutil
0
18
M. Ericsson
0
19
P. Maldonado
0
20
E. Gutierrez
0
21
M. Chilton
0
22
K. Kobayashi
0