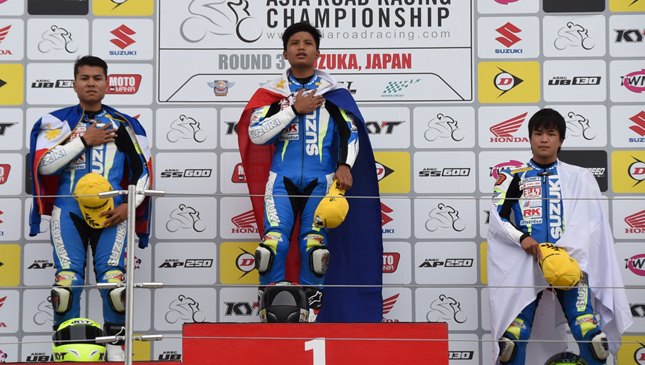 When it comes to sports, Filipinos have somewhat of a knack for stepping up their game on the international stage. We've done it in boxing and basketball, so who's to say we can't find success in motorsports?
If Team Suzuki Pilipinas's showing in Round 3 of the Suzuki Asian Challenge is any indication of our progress toward achieving this goal, then we're on the right track. Our kababayans impressed at the international racing event, with one member of the team even setting a course record at the Suzuka International Circuit in Japan.
April King Mascardo managed to land pole position and set a course record of 2:52.455--a full 5.3 seconds faster than last year's pole. Meanwhile, Eane Jaye Sobretodo and Mario Borbon Jr. finished a race in first and second, respectively. All those feats were firsts for our country in international motorcycle racing.
Mascardo probably would have found himself on the podium, too, had it not been for a decisive crash in Race 1. He was leading with two Indonesian racers following closely behind. Unfortunately, all three crashed--but this allowed fellow racers Sobretodo and Borbon to take the lead and land on the podium. The team fell back to earth in Race 2, with Mascardo failing to finish and Sobretodo and Borbon placing 9th and 10th.
With this round, Team Suzuki Pilipinas managed to secure a position within the top 10 of the pack. Sobretodo now sits in fourth, followed by Mascardo and Borbon in fifth and seventh, respectively. Hopefully, our racers can build on this success when they take to the track in Sentul, Indonesia, in August.
ADVERTISEMENT - CONTINUE READING BELOW ↓
Good luck, guys!