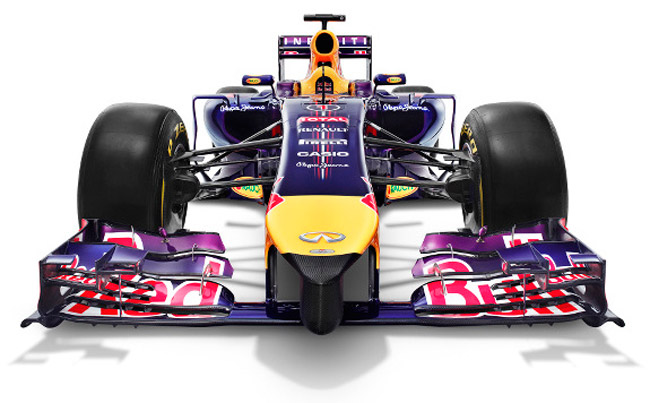 It's a well-known fact that Red Bull chief technical officer Adrian Newey would rather bleed through every orifice of his body than pen an unsightly Formula 1 car. Okay, that's overstating things, but the saying "if it's fast, then it's pretty" doesn't sit well with the most successful designer in the sport today. No weird-looking solutions will originate from his old-school drawing board (he's never learned how to use a CAD system) if he can help it. He wants his cars fast and beautiful.
Which is why it's understandable that he's had a little rant about the extreme front-end designs that are set to inhabit the 2014 grid. The low-nose requirement, Newey explains, comes from a safety standpoint, "although whether it will make much difference in stopping a car [from] launching if it runs into the back of another is a moot point."
"It's a funny regulation," Newey goes on. "It calls for a maximum side-view height, and then on top of that there is an area 50mm behind the front of the nose which we have to meet, and that area is quite low down--much lower than the side view. So you end up with almost two noses: one that is the main bulk of the nose and which is this minimum side-view height, and then almost a bulb sticking out from that to satisfy the area rule much lower down."
Continue reading below ↓
Recommended Videos
His parting shot is a testament to the value he puts on an F1 car's appearance: "To varying degrees, I would imagine everybody will have these rather ugly and ungainly noses, which I think is an awful shame. To me, the aesthetics of an F1 car is important. They should look good and not many of the owners of these noses could really love them."
Ouch.
The owners of the new Red Bull RB10, at least, seem satisfied with Newey's take on the nose regulations. "Car looks like a hot rod. It's got swag. Pumped!" new signee Daniel Ricciardo has tweeted. Reigning champion Sebastian Vettel has also declared his new ride to be the best-looking of the lot--it must be because the nose tip appears to have been inspired by his pointed-finger victory salute. That part, at least, has been left as black, unpainted carbon, so its pointedness shouldn't be obvious against the dark surface of a racetrack.
Well-played, Mr. Newey.
Here are more images of the RB10, with which Red Bull plans to defend its four consecutive championships. Overall, we think it's a bit behind the Mercedes F1 W05 in terms of looks. Let's see which one has more pace.
Photos from Infiniti Red Bull Racing