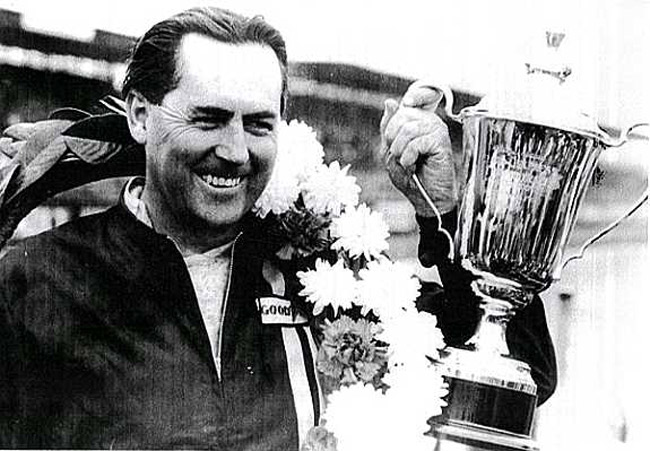 On May 19th, 1957, one Monaco GP entrant finished the race by pushing his car across the finish line.
The Cooper T43 (which went against the front-engined norm of Formula 1 cars at the time by having its engine mounted behind the driver) had suffered a last-gasp fuel-pump issue, but its driver refused to pull over. After much huffing and puffing on his part, he was classified sixth and last--10 of the event's 16 starters had either gotten in accidents or run into mechanical trouble.
That Cooper driver was Jack Brabham, who would go on to win three drivers' titles and two constructors' championships. This week, also on May 19th, he succumbed to liver disease. "My father passed away peacefully at home at the age of 88 this morning," confirmed David Brabham in an official statement.
"Black Jack," a former Royal Australian Air Force flight mechanic, went to the UK in 1955 after considerable success in dirt-track events, hill-climbing, and road racing in his home country. He came to have a close relationship with Cooper Car Company owners Charles and John (as in 'John Cooper Works'), and was instrumental in the production and development of the British car company's mid-engined single-seaters.
Continue reading below ↓
Recommended Videos
Brabham took his maiden GP win on the streets of Monte Carlo in the 1959 season opener--without having to limp home with his Cooper T51 for a change. Seven months on, however, he had to resort to manual labor once again at the United States GP, manhandling his car to the checkered flag and winning his first F1 championship by four points.
He successfully defended the title in 1960, but while he continued with Cooper until 1961, he was already forming the Motor Racing Developments with engineer and designer Ron Tauranac. The company initially built and sold lower-formula customer cars, then launched its own F1 campaign in 1962 by the name of Brabham Racing Organisation.
Brabham himself drove for the team from 1962 to 1970, clinching his third drivers' championship and his first constructors' plum in 1966. He remains the only person to have won an F1 championship in one of his own cars. The Aussie squad retained both titles in 1967, this time with Denny Hulme emerging as the top-scoring driver. After Brabham's retirement in 1970 and Bernie Ecclestone's takeover in 1972, the team would go on to win two more drivers' titles in 1981 and 1983, both courtesy of Nelson Piquet Sr.
Over a 16-year career in F1, Brabham recorded 14 wins, 31 podiums, 13 pole positions, 12 fastest laps, and 253 championship points. "He lived an incredible life, achieving more than anyone would ever dream of, and he will continue to live on through the astounding legacy he leaves behind," said son David.
Photo from JackBrabham.com