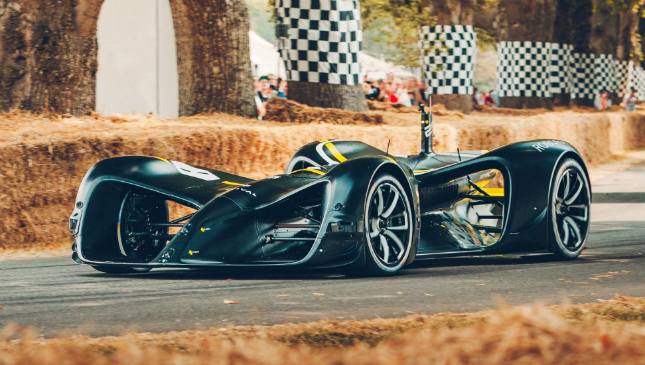 Step past the moderately terrifying premise of the Robocar—a fully autonomous, artificially intelligent racing car that looks like a ground-based missile and is capable of going really fast by making millions of split-second decisions—and it's actually quite astonishing.
In a good way. The possibilities—as we've alluded to in the past—are endless and fascinating and open up so many cool things. We shall begin with perhaps one of the coolest, for racing fans at least.
The possibility that a future Robocar—the sentient racer built by Roborace, that recently made history by running the Goodwood hillclimb completely autonomously—could have different driving 'personalities' programmed into its considerable brain, mimicking motorsports heroes of old.
Continue reading below ↓
Recommended Videos
"We've been asked if those old F1 names can come back into the sport," Roborace's chief strategy officer Bryn Balcombe told TopGear.com. "Like, 'can you have Ayrton Senna come back and drive one of the Robocars, and then compete against Lewis Hamilton.'
"Or compete against an e-sports star who's been in a simulator, and you've copied his driving style and put it into an AI driver," he adds.
It drills into, as Bryn confirms, one of the core principles of Roborace. "We provide a platform," he tells us, "and any of the IP generated—the autonomous driving software—is owned by the team that wrote the software. It's not owned by us."
So the idea is that Roborace will remain a one-make competition, focusing on driving talent. "There are manufacturers that have driver development programs," Bryn tells TG, "we believe they will also have AI driver development programs."
Though Bryn notes that such personalities won't be 'deliberately coded into the vehicles,' just a possibility. "We can get the car to a level of a Niki Lauda, let's say, on track, but maybe not the James Hunt off the track!
"When we look at racing we work out personality from the behavior of the vehicle—what actions does the car take? How aggressive does it look? But aggression is something we project onto the vehicle."
The designer behind the Robocar—Daniel Simon—explores this idea about developing AI drivers. "I think our car future isn't driverless," he told us. "I think we have a driver in there… it's just code. There's a lot of hard work in the future to accept this as a 'driver,' a person almost, not made of flesh and blood.
"And I think there's a generation now growing up that will accept that. There have been movies made about that!"
He theorizes an idea about a future Le Mans 24hr race, with one driver per car across the whole race. Well, two 'drivers.' "One is human, and one is AI. The human drives as long as he or she can, the autonomous mode continues your race but it's maybe based on your performance. Or your style…"
Would certainly make for an entertaining spectacle, no? Which is half of what Roborace is all about (the first half being about developing new software and talent behind it). "I worked in Formula 1 for 16 years," Bryn recalls, "so to find a sport where you can really focus on road relevant engineering while also having this really interesting entertainment element—bringing the real and virtual worlds together—it's really unique."
Daniel agrees. "I want to see [in Roborace] something like these acrobatic jet teams—the Red Arrows, for example—are doing. Two things—it has to be beautiful stuff, with really tight formations, loops etc. But also crazy stuff where things go bang! I'm a kid at heart—I want to go to stuff that's cool," he added.
Cool, yes. Terrifying, moderately.
NOTE: This article first appeared on TopGear.com. Minor edits have been made.