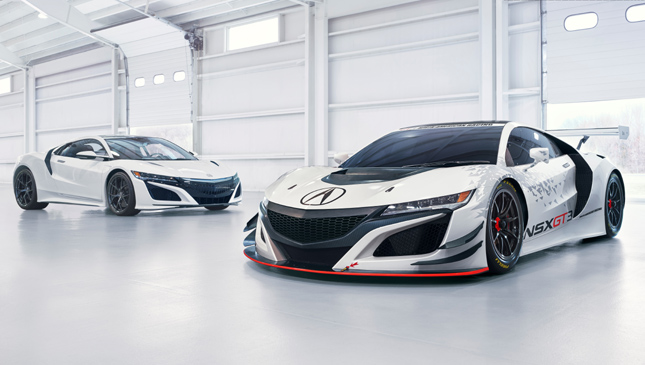 Acura has always been synonymous with premium luxury. The brand ranks right up there with the likes of Lexus, competing for a share of the upscale automotive pie. But despite its reputation, motorsport still remains in the company's genes. This is apparent in its latest offering: the Acura NSX GT3 race car.
The GT3 was unveiled at the New York International Auto Show. The car, as its name suggests, is a track version of the smoking-hot second-generation NSX that has been blowing away fans the world over.
Those who have been keeping an eye on the NSX are aware of the technology that it possesses. The car's body and chassis, for instance, are made from a mix of light yet rigid materials wrapped around an aluminum space frame. The GT3 race car features aerodynamic bits like large hood vents, underbody diffusers, and a huge rear wing. Add some race livery and it definitely looks right at home on the track.
The real ace up this car's hood, however, is its 3.5-liter twin-turbo V6 motor. It shares the same heads, pistons, valvetrain, and other bits as the production version, providing the same strong performance, with some 573hp driving the rear wheels. In this case, though, all that force is transferred by a six-speed sequential gearbox.
Continue reading below ↓
Recommended Videos
Specially developed by Honda's engineering division in Japan to compete in various races in 2017, the NSX GT3 will be produced at the company's Performance Manufacturing Center in Ohio. Of course, the car has already undergone initial testing in Japan and Europe, while final homologation for the FIA GT3 class is being done by Honda's North American race engineering group, along with Honda Performance Development in California.
The NSX GT3 is the latest bid to further Acura's young race heritage. The brand has won quite a few trophies as far back as 1991 in events like the IMSA Camel Lights championship, as well as the American Le Mans. With a car like the NSX, it looks like the brand will be adding to its list of prestigious titles pretty soon.